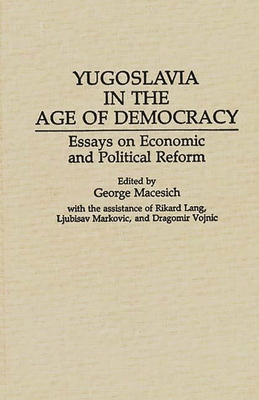 Yugoslavia in the Age of Democracy (Hardcover)
Essays on Economic and Political Reform (Contributions in Philosophy: 49)
Praeger Publishers, 9780275941758, 250pp.
Publication Date: September 17, 1992
* Individual store prices may vary.
Description
These essays, which focus on the critical issues that now confront the country in its continuing search for reform, stability, and unity, were written prior to recognition of the independence of Slovenia, Croatia, and Bosnia-Herzegovina by countries of the European Community, the United States, and others. The newly independent countries of the former Yugoslav federation will continue to occupy the same geographic and economic space. Their future economic and sociopolitical relations will provide many other opportunities for association. These essays provide valuable insight into the policies that may evolve from these relations and are of more than just historical interest.
This volume will be valuable to economists, political scientists, and others in the social sciences interested in the dramatic events unfolding in Eastern Europe. It will also provide lessons for those in other countries seeking similar reforms.
About the Author
GEORGE MACESICH is Professor of Economics and Director of the Center for Yugoslav-American Studies, Research, and Exchanges at Florida State University. He is the author or editor of over thirty books, including Monetary Reform and Rational Expectations (Praeger, 1989), Money and Democracy (Praeger, 1990), and World Debt and Stability (Praeger, 1991).