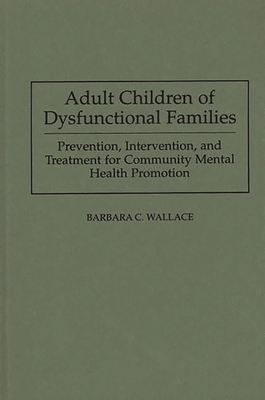 Adult Children of Dysfunctional Families (Hardcover)
Prevention, Intervention, and Treatment for Community Mental Health Promotion (Studies; 72)
Praeger, 9780275944759, 328pp.
Publication Date: November 30, 1996
* Individual store prices may vary.
Description
This book serves as a training manual for mental health professionals and other community members who desire a practical handbook to guide their work with adult children from dysfunctional families in both individual and group counseling. An approach to the resolution of trauma is offered, along with prevention and intervention techniques for use with children and adolescents from dysfunctional families in school and other community-based settings. Group psychoeducation is highlighted as a tool for the delivery of curricula, covering diverse topics such as how to engage in healthy parenting behavior, how the stress of immigration/migration contributes to the creation of dysfunctional families, how to attain cultural sensitivity, as well as how to prevent or stop violent behavior. Always practical, Dr. Wallace provides a timely and comprehensive guide for community mental health promotion at a time when multiple, overlapping epidemics undermine family functioning.
About the Author
BARBARA C.WALLACE is Associate Professor in the Department of Health and Nutrition Education at Teachers College, Columbia University. Dr. Wallace is the author of Crack Cocaine: A Practical Treatment Approach for the Chemically Dependent (1991) and editor of The Chemically Dependent: Phases of Treatment and Recovery (1992).