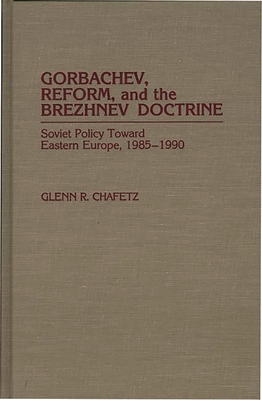 Gorbachev, Reform, and the Brezhnev Doctrine (Hardcover)
Soviet Policy Toward Eastern Europe, 1985-1990 (Penology; 40)
Praeger, 9780275944841, 168pp.
Publication Date: April 30, 1993
* Individual store prices may vary.
Description
The collapse of Soviet power in Eastern Europe was relatively quick, peaceful, and unforeseen. In this important new study of Soviet policy in the region, Chafetz provides a fresh analysis of why Moscow redefined Soviet interests in Eastern Europe and an explanation of the decision not to use military force to shore up the disintegrating bloc. Particular attention is devoted to the interaction of domestic and international factors in the policy process; the causes and impact of ideological revision within the Communist Party of the Soviet Union, and the role of Gorbachev's perceptions in his decisions.
Most people will admit that in 1985 they could not imagine that during their lifetime the Soviet Union would permit the Berlin Wall to fall, would allow democratic elections in Eastern Europe, and would withdraw its troops from the region, ending the Cold War. Yet, between 1985 and 1990, the Soviet Union reoriented its foreign policy rapidly, decisively, and peacefully. This book explains why the Soviet Union abandoned its long-term policy toward Eastern Europe: specifically, why the Gorbachev regime abandoned the Brezhnev Doctrine.
This study of the decisions that resulted in the collapse of communism in Eastern Europe helps us understand the factors and forces behind not only Gorbachev's Eastern European policy but also Moscow's foreign policy in general, Soviet internal democratization, and the large-scale historical change in the 20th century. This book is important reading for those concerned with contemporary international and military relations and Eastern European studies.
About the Author
GLENN R. CHAFETZ, former Acting Assistant Director of the Center for Russian and East European Studies, University of Virginia, is Assistant Professor of Political Science, Memphis State University. A specialist in theories of international relations and Russian foreign policy, he has published in International Relations.