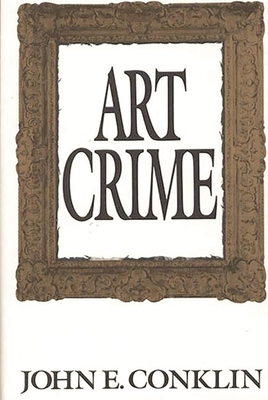 Art Crime
Hardcover

* Individual store prices may vary.
Description
This is the only book by a criminologist to look at the full range of crime involving works of art: forgery, fraud, theft, smuggling, and vandalism. It is up to date, drawing on much material from the boom years of the art market in the 1980s and continuing up through the 1990s, and assimilating information from a variety of sources: art magazines, newspaper accounts, and the relatively small amount of scholarship on art crime by art historians and criminologists. In addition to considering the motives of thieves, the book looks at the way art theft is socially organized: the types of thefts that are committed, the ways thieves locate art to steal and how they gain access to it, their use of insiders and fronts, and the way they launder stolen art. The relationship between art theft and organized crime, especially drug traffickers, is investigated. After looking at explanations of art vandalism and the way vandals explain their behavior, the book concludes with a consideration of policies to curb art crime. The entire book is written in a highly entertaining way, packed with case studies of numerous crimes and stories of smuggling, grave-robbing, and skullduggery, that will appeal to a general audience as well as professionals and academics in criminology, sociology, and art history.
Praeger Publishers, 9780275947712, 320pp.
Publication Date: March 30, 1994
About the Author
JOHN E. CONKLIN is Professor of Sociology at Tufts University. He is the author of a successful textbook, Criminology (Fifth Edition will be published in 1995), as well as Sociology: An Introduction (1987, 1984), Illegal but Not Criminal: Business Crime in America (1977) The Impact of Crime (1975)bbery and the Criminal Justice System (1972)and editor of The Crime Establishment: Organized Crime and American Society (1973).