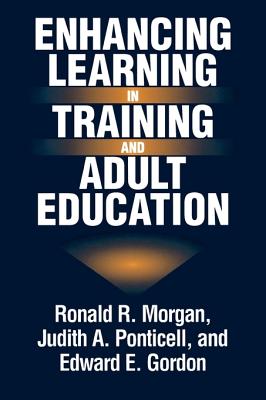 Enhancing Learning in Training and Adult Education (Technology Series; 15) (Hardcover)
Praeger, 9780275950163, 384pp.
Publication Date: February 24, 1998
Other Editions of This Title:
Paperback (2/24/1998)
* Individual store prices may vary.
Description
This book picks up where the well-received Futurework (1994) left off. It builds a strong case for workplace trainers treating their work as research. The nine chapters are designed to prepare readers to become workplace consultants. The authors present their workplace training program of research as well as a mastery learning model. By presenting ideas from instructional psychology, cognitive science, mastery learning, and performance based assessments, and then relating these findings to the workplace, the authors offer a new way to look at learning in the workplace. Considerable focus is given to the need to enhance diversity within workplace settings. Suggested readings are included with each chapter.
About the Author
RONALD R. MORGAN is an expert in the psychology of learning and instruction. He serves as the director of the educational and school psychology programs of study at Loyola University of Chicago.JUDITH A. PONTICELL is an Assistant Professor of Curriculum and Instruction at Texas Tech University./e Her research focuses on adult learning, school effectiveness, and establishing educational partnerships in the workplace.EDWARD E. GORDON is President of Imperial Corporate Training and Development and teaches at Loyola University in Chicago. Together they have co-authored Futurework: The Revolution Reshaping American Business (Praeger, 1994) and Closing the Literacy Gap in American Business (Quorum Books, 1991).