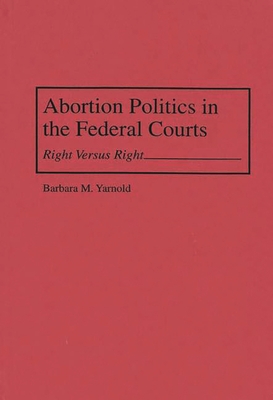 Abortion Politics in the Federal Courts (Hardcover)
Right Versus Right
Praeger, 9780275952914, 176pp.
Publication Date: May 30, 1995
* Individual store prices may vary.
Description
In this analysis of federal court cases relying upon the landmark Roe v. Wade decision, the author finds that the pro-life movement in the United States has suffered repeated losses in abortion litigation. Additionally, her research indicates that, despite claims to the contrary, the pro-life movement is a loose collection of underfunded and understaffed public interest organizations. The pro-choice forces are vastly more powerful in abortion litigation, have superior organization and financing, and include not only public interest groups but also private interests such as clinics and professional medical organizations. Divided into three parts, the study begins with a public law analysis of the progeny of Roe cases, examining those variables which appear to impact court decisions. Next the work examines political factors and litigation resources as variables in explaining court decisions. And finally, the work offers a descriptive analysis of abortion litigants which divides the groups into major categories and evaluates them in terms of their resources, longevity, and other such factors. This book will be of interest to those seriously interested in the political and legal ramifications of the abortion controversy.
About the Author
BARBARA M. YARNOLD is Assistant Professor of Public Administration at Florida International University in Miami. She is the author of five books, including most recently, Politics and the Courts (Praeger, 1992) and The Role of Religious Organizations in Social Movements (Praeger, 1991).