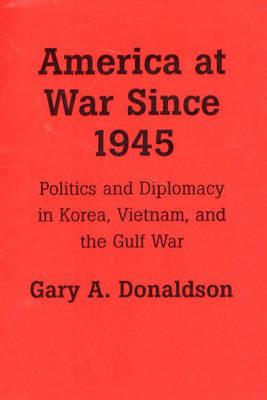 America at War Since 1945 (Paperback)
Politics and Diplomacy in Korea, Vietnam, and the Gulf War (Religious Studies; 39)
Praeger, 9780275956608, 240pp.
Publication Date: September 30, 1996
Other Editions of This Title:
Hardcover (11/22/2016)
* Individual store prices may vary.
Description
Focusing primarily on politics and foreign policy, America at War Since 1945 analyzes America's involvement in three wars since the end of World War II: Korea, Vietnam, and the Gulf War. The main questions asked are: How did the U.S. become involved in these wars? How were the wars conducted? And how did the U.S. get out of these wars?
In Korea and Vietnam, the U.S. fought to show the world that it would stand up to the evils of communism; that it could be counted on (with money, advisors, or even a major military effort if necessary) to halt the advance of communism. But in both wars, the U.S. showed itself to be militarily vulnerable. The Gulf War--against tyranny, not communism--restored the U.S. to its position of prominence in the world, reaffirming its role as a world leader and a defender of freedom.
About the Author
GARY A. DONALDSON teaches at Xavier University in New Orleans, where he is Associate Professor of History. His first book The History of African Americans in the Military, was published in 1990.
or
Not Currently Available for Direct Purchase