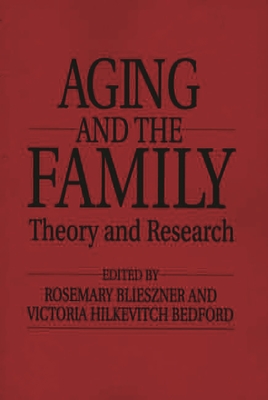 Handbook of Aging and the Family (Paperback)
Theory and Research
Praeger, 9780275956974, 536pp.
Publication Date: July 30, 1996
Other Editions of This Title:
Hardcover (1/16/1995)
* Individual store prices may vary.
Description
No other reference provides such a comprehensive and timely overview of theory and research on family relationships, the contexts of family life, and major turning points in late-life families. It includes many suggestions for theoretical and practical applications for future research on a score of important topics. This multidisciplinary survey is an invaluable library reference and teaching resource intended for upper-level undergraduate and graduate students, teachers, and practitioners -- for gerontologists, family scholars, psychologists, sociologists, historians, social workers, health-care providers, and policy makers.
About the Author
Rosemary Blieszner is professor of gerontology and family studies in the Department of Family and Child Development and associate director of the Center for Gerontology at Virginia Polytechnic Institute and State University. She received her PhD from Pennsylvania State University in Human Development-Family Studies with a concentration in Adult Development and Aging. Her research focuses on family and friend relationships and psychological well-being in adulthood and old age. She is co-author, with Rebecca G. Adams of Older Adult Friendship: Structure and Process (1989) and Adult Friendship (1992).Victoria Hilkevitch Bedford is assistant professor of psychology in the Department of Psychology at the University of Indianapolis. She received her PhD in developmental psychology from Rutgers University, and was a National Institute on Aging Postdoctoral Fellow with the Midwest Council for Social Research on Aging. Her research interests and publications are in family relationships of middle-aged and old adults (especially sibling relationships), family relations in a social network context, and attachment across the lifespan.