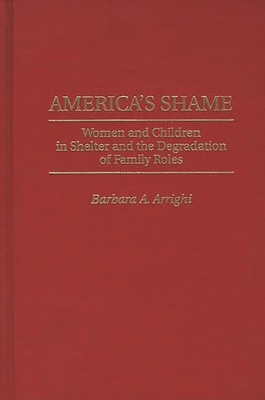 America's Shame (Hardcover)
Women and Children in Shelter and the Degradation of Family Roles
Praeger, 9780275957322, 160pp.
Publication Date: July 30, 1997
* Individual store prices may vary.
Description
Rejecting those who urge a bootstrap approach to people living in extreme poverty on the edge of society, sociologist Barbara Arrighi makes an eloquent, compassionate plea for empathy and collective responsibility toward those for whom either the boots or the straps are missing. This book further offers solutions in consciousness raising, community collaboration, and informed, responsible public policy. The book is a critique of a system that purports to serve yet sometimes impedes the welfare of those who are in need of the basic elements for survival, including affordable shelter. It analyzes the structural factors of poverty and the social psychological costs of being poor and lacking a home. Utilizing interview findings from families who have lived in a shelter in northern Kentucky and from staff members, the book examines the degrading effects of shelter life on women's self-respect and children's development. Rather than an examination of individual pathologies leading to lack of shelter, it centers on women and children living in shelters and offers a sociological study of poverty and the family.
About the Author
BARBARA A. ARRIGHI is Associate Professor of Sociology at Northern Kentucky University. Her articles have been published in professional journals and in the Encyclopedia of Marriage and the Family.