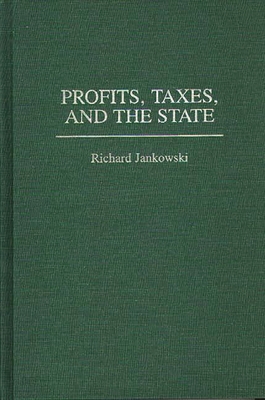 Profits, Taxes, and the State (Hardcover)
Praeger, 9780275960810, 208pp.
Publication Date: April 8, 1998
* Individual store prices may vary.
Description
The 1980s and 1990s were a watershed in terms of both tax and monetary policy. The 1981 Reagan tax cut ushered in supply-side economics, while the 1986 Tax Reform Act produced a substantial cut in the marginal individual income tax rate. In terms of monetary policy, the Volcker-Greenspan chairmanships of the Federal Reserve initiated fundamental changes in monetary policies that lowered inflation. Jankowski examines both tax and monetary policies to determine their effects on profits. He shows that the pretax profit rate fell in the post-World War II year, but that the post-tax profit rate remained relatively constant. However, Jankowski argues that the tax policies adopted did not produce the observed constancy in the post-tax profit rate. He further argues that the elimination of the corporate income tax would have the effect of enhancing redistributive policies.
Jankowski's analysis of tax and monetary policies leads to new theories of the state and classes, and he argues that the growth of the state has restructured classes. The state, and not the workplace, has become the locus of income for the majority of individuals in modern capitalist societies. This change requires a fundamental rethinking of the nature of classes and class politics. A controversial analysis that will be vital reading for economists, political scientists, and other scholars and policymakers dealing with tax and monetary issues.
About the Author
RICHARD JANKOWSKI is Associate Professor of Political Science at the State University of New York College at Fredonia. He has published widely in political science, sociology, and economics journals, and his areas of research include tax, monetary and exchange-rate policy, political economy, comparative political institutions, and game theory.