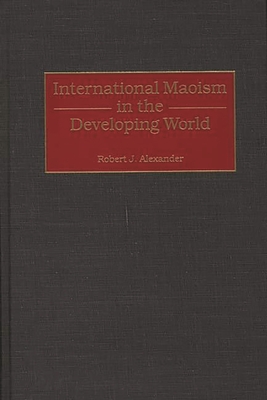 International Maoism in the Developing World (Hardcover)
Praeger Publishers, 9780275961497, 360pp.
Publication Date: November 30, 1999
* Individual store prices may vary.
Description
The Maoist movement was the most important dissident force within International Communism in the period following World War II. Based on first-hand observation as well as the scattered research on the Maoist movements, Alexander examines the circumstances that attracted people to the movement in each country and the evolution of the movement. Scholars and researchers interested in Marxism in the developing world will be able to trace the origins and fate of Maoist groups in Latin America, Albania, Africa, the Middle East, and Asia.
About the Author
ROBERT J. ALEXANDER is Professor Emeritus of Economics and Political Science, Rutgers University. He was a member of John F. Kennedy's Task Force on Latin America where the Alliance for Progress was developed, and he is a former consultant to the American Federation of Labor and the AFL-CIO on Latin American and Caribbean organized labor. One of the country's most respected scholars of Latin American politics and economic affairs, Professor Alexander is the author or editor of forty-five earlier books, most of them focusing on Latin America and the Caribbean, including The Bolivian National Revolution, the first English-language study of that upheaval, and the history of labor and radical movements.