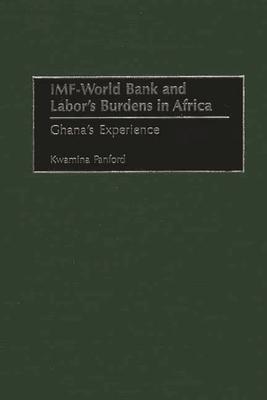 IMF - World Bank and Labor's Burdens in Africa (Hardcover)
Ghana's Experience
Praeger, 9780275961862, 200pp.
Publication Date: August 30, 2001
* Individual store prices may vary.
Description
Globalization, the return to a multi-party system of government, and the policies advocated by the IMF and the World Bank have led to near revolutionary labor relations in Ghana. As Panford shows, these new social and economic forces have unleashed new and even contradictory labor policies and practices which are having profound social, political, and economic consequences.
Panford examines how the Ghana Constitution of 1992 led for the first time to new workers' rights, including the right to affiliate with any local, national, or international union. In response to globalization and policies advocated by the IMF and the World Bank, the Ghana government sought to resist worker demands for improved working and living conditions. The situation was worsened by the privatization of state-owned businesses and severe cuts in public employment. In this environment of tense labor relations, government hostility, and weak employment, Panford traces the ways workers are revitalizing unions and developing new sources of jobs and finances. These include relatively aggressive systematic organization of women, senior staff, and the informal/agricultural sector. One of the most important initiatives of the unions is the creation of a workers' trust to establish and finance worker-owned enterprises. The evidence presented by Panford indicates the failure of IMF and World Bank policies, and he calls for new and viable policy alternatives with emphasis on enhancing Ghana's global competitiveness and meeting genuine development needs. A thoughtful analysis that will be of interest to scholars and researchers involved with development and international economics, labor relations in the developing world and the increased involvement of international financial institutions.
About the Author
KWAMINA PANFORD teaches in the Department of African-American Studies at Northeastern University, Boston./e Professor Panford has international work experience in labor and management with the International Labor Organization and the Arthur D. Little Management Education Institute. In addition, he is a consultant/trainer for the African-American Center of the American Federation of Labor-Congress of Industrial Organizations, the Ghana Labor Department, and other public and private organizations.