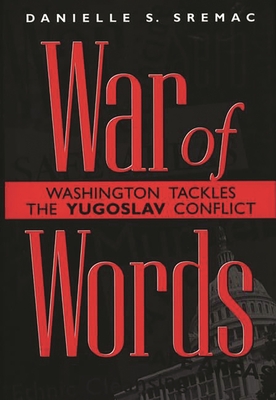 War of Words (Hardcover)
Washington Tackles the Yugoslav Conflict
Praeger Publishers, 9780275966096, 296pp.
Publication Date: October 30, 1999
* Individual store prices may vary.
Description
Sremac argues that there is a process and ideology that guides Washington in the post-Cold War era, and any special interest group that understands how Washington works can put forth a message that appeals to the media and the U.S. foreign policymaking establishment. The Yugoslav conflict was one of the first and most important examples of how certain foreign interest groups and their supporters in the United States, were able to tap into this system and play out a war of words in Washington that greatly influenced U.S. actions in the Balkan region.
Sremac goes behind the rhetoric and propaganda to reveal how Yugoslavia's Bosnian Muslim, Croat, and Albanian ethnic factions sought to win the heart of Washington and draw U.S. military intervention to help them fight a war against their foe -- the Serbs. The U.S. media was more than willing to promote the cause of these warring parties and, as a result, had a profound influence on Washington's view of Yugoslav ethnic clashes. The author offers a penetrating look at how media-generated images of Yugoslav ethnic conflicts from 1991 to 1999 hindered Washington's ability to understand the region's complex problems and made U.S. foreign policy a reflection of sound bites rather than sound reasoning. A controversial look at Washington, the media, and the Balkans, this book will be of interest to all concerned individuals, scholars, and others who want to gain a behind-the-scenes understanding of what really happened in the Yugoslav conflict, and explore more alarming trends in Washington that continue to encourage U.S. interventionism in ethnic conflicts today.
About the Author
DANIELLE S. SREMAC is a Balkans expert and Director of the Institute for Balkan Affairs in Washington, D.C. As a visible commentator on Yugoslav issues, she has appeared on hundreds of televison and radio programs in the United States and internationally. She represented Serbian-Americans throughout the 1990s. Born in Belgrade, Yugoslavia, she also provides first-hand knowledge of ethnic relations and life in Yugoslavia, which had such a profound effect on the country's civil war.