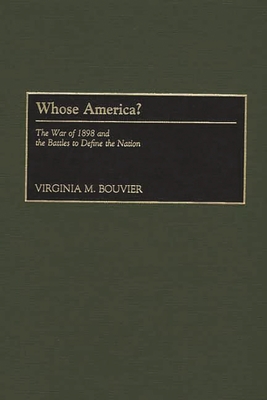 Whose America? (Hardcover)
The War of 1898 and the Battles to Define the Nation
Praeger, 9780275967949, 256pp.
Publication Date: August 30, 2001
* Individual store prices may vary.
Description
In the midst of the culture wars raging in the United States, this book recovers a part of U.S. history that some wish to forget--the war of 1898. With the war, U.S. policymakers terminated more than four centuries of Spanish colonial rule in the region and launched a paradigm for U.S.-Latin American relations that dominated the 20th century. The war inaugurated an era of profound change not only in U.S. policy toward Latin America, but also in regional cultures and identities within the United States, Cuba, Puerto Rico, and the Philippines.
Virginia M. Bouvier underscores the importance of the war in defining American identities. Contributors discuss such items as Spanish perspectives on the U.S. role in the conflict, the multiple and conflicted identities of the Cuban migr community, and the capacity of gender discourse to explain Congressional actions. A final bibliographic essay reviews recent scholarship on the war. Scholars, students, and researchers involved with American and Latin American history will find this collection particularly valuable.
About the Author
VIRGINIA M. BOUVIER is Assistant Professor of Latin American Literature in the Department of Spanish and Portuguese at the University of Maryland, College Park./e Professor Bouvier has published articles and monographs on female narratives on the California frontier, democracy and culture in Latin America, U.S.-Latin American relations, the war of 1898, Sor Juana Ines de la Cruz, and human rights issues. She attended the Institute for the Editing of Historical Documents in 1994 and worked as a National Historical Publications and Records Commission Intern on a documentary edition of the writings and correspondence of Emma Goldman.