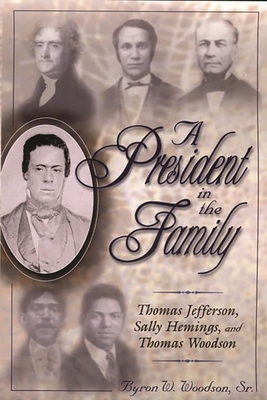 A President in the Family
Thomas Jefferson, Sally Hemings, and Thomas Woodson
Hardcover

* Individual store prices may vary.
Description
Conceived during Thomas Jefferson's junket in Paris, Thomas Woodson was Jefferson's first child by Sally Hemings. He was banished from Monticello at the age of 12, after a journalist exposed Jefferson's relationship with his young slave. A President in the Family traces Thomas Woodson's subsequent journey from Virginia to Ohio where Thomas and wife Jemima, a former slave, would raise a productive and ambitious family.
Their eldest son Lewis, author of the famous Augustine letters, would carry on the family tradition of education, leadership, and public service. A founder of Wilberforce University and described by some as the father of black nationalism, Lewis argued that the black race should not depend on white philanthropy to achieve success in America. His children and grandchildren would prosper as entrepreneurs, engineers, and educators.
A President in the Family tells of the Woodsons' continuing struggle to correct accounts by Jeffersonian historians and their successful discovery of documentation that supports an oral history that survived independently in five branches of the family tree. Byron W. Woodson, Sr., a sixth-generation descendant of Jefferson, details the recent developments in the quest to corroborate family lore, to locate missing family members, and to reveal the truth about the complex day-to-day life at Monticello. This is the amazing story of the Woodson family and its steadfast effort to reveal its illustrious past to the American public.
Praeger, 9780275971748, 310pp.
Publication Date: February 28, 2001
About the Author
BYRON W. WOODSON SR. is a son of Minnie S. Woodson, who researched the Woodson genealogy and wrote the Woodson Source Book. He is a sixth generation descendant of Sally Hemings and Thomas Jefferson and a great-great-grandson of the Reverend Lewis Woodson, the father of black nationalism. Byron Woodson gave a blood sample for the Hemings/Jefferson DNA test in 1997 and with his wife, Trena, has extended research to Thomas Jefferson's papers, uncovering new findings. Woodson is a graduate of Lincoln University (Pa.) and Temple University where he earned a MBA.