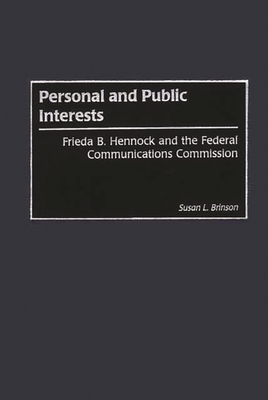 Personal and Public Interests (Hardcover)
Frieda B. Hennock and the Federal Communications Commission
Praeger, 9780275973223, 200pp.
Publication Date: October 30, 2001
* Individual store prices may vary.
Description
Unlike many of her female contemporaries during the thirties and forties, whose political activities furthered the agendas of male politicians, Frieda B. Hennock pursued her own political goals. Guided by intense personal and public interests, she became the first woman appointed to serve on the Federal Communications Commission, and her tenure there coincided with a period of unprecedented regulatory activity, during which the FCC made several significant decisions regarding the development of television. Simultaneously challenging the FCC's status quo and making a political name for herself with her tireless efforts to develop educational television, Hennock became one of the most significant female political figures of this century.
Utilizing both critical and historical research methodologies, Brinson highlights key events in Hennock's career, including her dissenting position in the color TV hearings and her blindness to the deficiencies of the UHF system. Personal and Public Interests serves as a much-needed corrective to the scholarly oversight of Hennock's life and work, which represent the intersection of the histories of both broadcasting and women in the United States. More than mere biography, this insightful work examines the union of history, technology, and personality, creating a vivid portrait of both a woman and her era.
About the Author
SUSAN L. BRINSON is Associate Professor of Communication at Auburn University, where she teaches such subjects as broadcast history, media law, and gender communication.