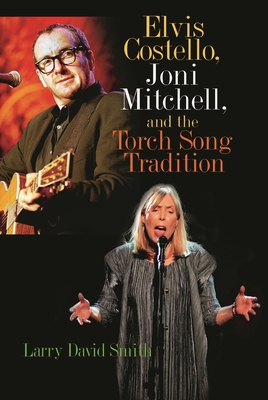 Elvis Costello, Joni Mitchell, and the Torch Song Tradition
Hardcover

* Individual store prices may vary.
Description
The torch song has long been a vehicle for expression--perhaps American song's most sheerly visceral one. Two artists in particular have built upon this tradition to express their own unique outlooks on their lives and the world around them. Joni Mitchell, Elvis Costello, and the Torch Song Tradition combines biographical material, artist commentary, critical interpretation, and selected exemplars of the writers' work to reveal the power of authorship and the creative drive necessary to negotiate an artistic vision in the complicated mechanisms of the commercial music industry. Author Larry David Smith, as in his Bob Dylan, Bruce Springsteen, and American Song, considers the complicated intersection of biography, creative philosophy, artistic imperative, and stylistic tendencies in the work of both Joni Mitchell and Elvis Costello--two songwriters with seemingly nothing in common, one famously confessional and one famously confrontational. Yet, as Smith shows so incisively, they are two personalities that prove fascinatingly complementary.
Mitchell and Costello both yielded bodies of work that are cohesive, coherent, and rich in meaning. Both have made historic contributions to the singer-songwriter model, two rebellious respones to the creative and commercial compromises associated with their chosen field, and two distinct thematic responses to the torch song tradition. Smith examines these responses, offering a unique and invaluable exploration of the craft of two of the last century's most towering musical figures.
Praeger, 9780275973926, 312pp.
Publication Date: April 30, 2004
About the Author
LARRY DAVID SMITH is an independent writer and lecturer specializing in narrative critiques of popular media. His previous books include Bob Dylan, Bruce Springsteen, and American Song (Praeger, 2002) and Pete Townshend: The Minstrel's Dilemma (Praeger, 1999).
or
Not Currently Available for Direct Purchase