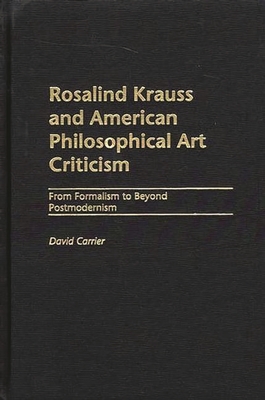 Rosalind Krauss and American Philosophical Art Criticism (Hardcover)
From Formalism to Beyond Postmodernism
Praeger, 9780275975203, 144pp.
Publication Date: October 30, 2002
* Individual store prices may vary.
Description
Rosalind Krauss is, without visible rival, the most influential American art writer since Clement Greenberg. Together with her colleagues at IOctober R, the journal she co-founded, she has played a key role in the introduction of French theory into the American art world. In the 1960s, though first a follower of Greenberg, she was inspired by her readings of French structuralist and post-structuralist materials, revolted against her mentor's formalism, and developed a succession of radically original styles of art history writing. Offering a complete survey of her career and work, IRosalind Krauss and American Philosophical Art Criticism: From Formalism to Beyond Postmodernism R comprises the first book-length study of its subject.
Written in the lucid style of analytic philosophy, this accessible commentary offers a consideration of her arguments as well as discussions of alternative positions. Tracing Krauss's development in this way provides the best method of understanding the changing styles of American art criticism from the 1960s through the present, and thus provides an invaluable source of historical and aesthetic knowledge for artists and art scholars alike.
About the Author
DAVID CARRIER is the Champney Family Professor at Case Western Reserve University/Cleveland Institute of Art. He has written numerous works including Principles of Art History Writing, The Aesthete in the City: The Philosophy and Practice of American Abstract Painting in the 1980s, and High Art: Charles Baudelaire and the Origins of Modernism.