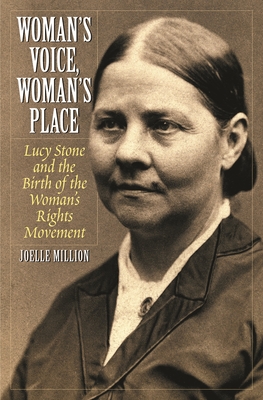 Woman's Voice, Woman's Place
Lucy Stone and the Birth of the Woman's Rights Movement
Hardcover

* Individual store prices may vary.
Description
Recounting the story of America's antebellum woman's rights movement through the efforts of Lucy Stone (1818-1893), this important account differs dramatically from those that focus almost exclusively on Susan B. Anthony or Elizabeth Cady Stanton. Million examines the social forces of the 1830s and 1840s that led Stone to become a woman's reformer and her early agitation as a student at Oberlin College, including what may well be the nation's first strike for equal pay for women. Million chronicles not only the public side of Stone, but her personal battles as well.
Considering a woman's right to self-sovereignty as the central issue of the movement, Stone tried to prove that marriage need not rob a woman of her autonomy. With Henry B. Blackwell, Stone attempted to establish a marriage of truly equal partners, in which she maintained her personal and financial independence. She worked tirelessly during the 1850s, not only as the movement's silver-tongued orator, but also as the organizer and manager of the National Woman's Rights Conventions, champion of coeducation, instigator of nation-wide petitioning efforts, and first person to plead for women's equal legal rights before a body of lawmakers. LThe contributions of several prominent male leaders are presented, along with coverage of agitation in New England and the western states. Million also details the trials of motherhood that eventually led Stone to pass leadership of the movement to Anthony and Stanton on the eve of the Civil War.
Praeger, 9780275978778, 360pp.
Publication Date: June 30, 2003
About the Author
JOELLE MILLION is an independent scholar and historian. She has taught history at Minnesota State University, Mankato.