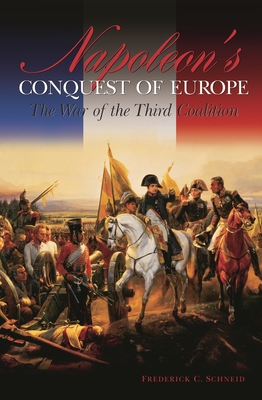 Napoleon's Conquest of Europe (Hardcover)
The War of the Third Coalition (Studies in Military History and International Affairs)
Praeger, 9780275980962, 220pp.
Publication Date: May 30, 2005
* Individual store prices may vary.
Description
Poised to strike at England in the summer of 1805, Napoleon found himself facing a coalition of European powers determined to limit his territorial ambitions. Still, in less than one hundred days, Napoleon's armies marched from the English Channel to Central Europe, crushing the armies of Austria and Russia--the first step in his conquest of Europe. In this telling new account, Schneid demonstrates how this was possible. Schneid details how Napoleon's victory over the Third Coalition was the product of years of diplomatic preparation and the formation of French alliances. He played upon the prevailing conditions of the European state system and the internal politics of the Holy Roman Empire to improve France's strategic position.
This war must be understood in the context of the French Revolution and its influence on major and minor European states. In some cases, Napoleonic diplomacy returned to France's traditional and historic relationships; in others, he capitalized upon longstanding competition and animosities to gather allies and create wedges. Schneid approaches the campaign from a broad diplomatic, economic, and military perspective, including not only the French perspective, but the points of view of the other powers involved as well. This telling account reveals that the road to Vienna was paved long before Napoleon's armies marched upon the enemies arrayed against them.
About the Author
Frederick C. Schneid is Professor of History at High Point University. He is the author of Napoleon's Italian Campaigns, 1805-1815 (Praeger, 2002) and Soldiers of Napoleon's Kingdom of Italy: Army, State and Society, 1800-1815 (1995). He serves on the board of directors of the Consortium on Revolutionary Europe and is southern regional director for the Society for Military History.