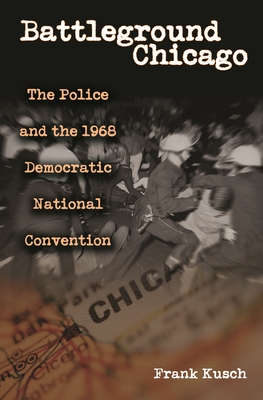 Battleground Chicago (Hardcover)
The Police and the 1968 Democratic National Convention
Praeger, 9780275981389, 206pp.
Publication Date: September 30, 2004
* Individual store prices may vary.
Description
Did the police lose control of themselves in dealing with demonstrators during the 1968 Democratic National Convention? Or were they simply men who saw themselves as protecting their city from the forces of revolution? Kusch contends that Chicago's police were more than unthinking thugs, that they had, in effect, become a counterculture, even more so than the people they ended up attacking. From Polish and Irish working class backgrounds, these men felt they represented a time gone by, a different way of life. The world they found themselves in during August of 1968 was an almost alien environment. Analyzing interviews of men who were on the streets and examining in-depth their actions and the reasons behind them, Kusch challenges traditional thinking on this pivotal event.
As television cameras rolled, and flash bulbs popped, young middle-class college kids were attacked by Chicago's finest. For four days, police chased, bludgeoned, and kicked, not only the protesters, but innocent onlookers and dozens of media representatives. Going beyond stereotypes and addressing what went on behind the cameras, Kusch challenges the assumptions that the police rioted and that the violence was limited to a handful of individuals. These officers are revealed as real men, with families, lives, and fears. It was these fears--as much as their hatred of the antiwar movement and the people in it--that led to the violent showdown. This work tackles a turbulent period when presentation was key for all the major players: the protesters, the media, and the police themselves.
About the Author
FRANK KUSCH is author of All American Boys: Draft Dodgers in Canada from the Vietnam War (Praeger, 2001). He holds degrees in history from Ohio University and the University of Saskatchewan. Historian and editor, he is currently working on a book about Richard Nixon and the antiwar movement.