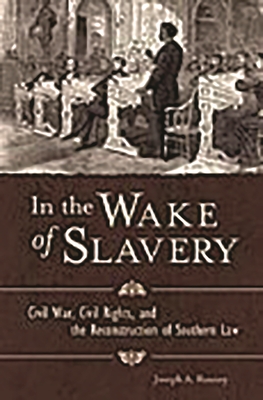 In the Wake of Slavery
Civil War, Civil Rights, and the Reconstruction of Southern Law
Hardcover

* Individual store prices may vary.
Description
The Civil War devastated the South, and the end of slavery turned Southern society upside down. How did the South regain social, economic, and political stability in the wake of emancipation and wartime destruction, and how did the South come together with its former enemies in the North? Why did the South not slip back into chaos? This book holds the keys to the answers to these tantalizing questions.
Author Joseph Ranney explodes the myth of a unified South and exposes just how complex and fragile the postwar recovery was. The end of slavery and the emergence of a radically new social order raised a host of thorny legal issues: What place should newly freed slaves have in Southern society? What was the proper balance between states' rights and a newly powerful federal government? How could postwar economic distress be eased without destroying property rights? Should new civil rights be extended to women as well as blacks? Southern states addressed these issues in surprisingly different ways.
Ranney also shatters the popular myth that a new legal system was imposed upon the South by the victorious North during Reconstruction. Southern states took an active hand in shaping postwar changes, and Southern courts often defended civil rights and national reunification against hostile Southern legislators. How did that come about? Ranney provides some surprising answers. He also profiles judges and other lawmakers who shaped Southern law during and after Reconstruction, including heretofore little-known black leaders in the South. These extraordinary individuals created a legal heritage that assisted leaders of the second civil rights revolution a century after Reconstruction ended. This book adds immeasurably to our knowledge not only of Southern history, but also of American legal and social history.
Praeger, 9780275989729, 212pp.
Publication Date: October 30, 2006
About the Author
Joseph A. Ranney teaches legal history as an adjunct professor at Marquette University Law School and is a partner in the Madison, Wisconsin, law firm of DeWitt Ross & Stevens S.C., practicing commercial and intellectual property litigation.