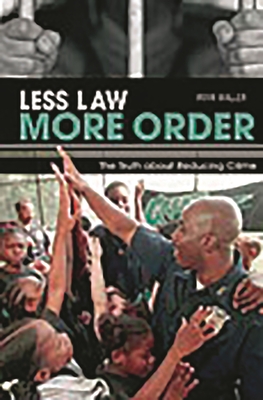 Less Law, More Order (Hardcover)
The Truth about Reducing Crime
Praeger, 9780275990770, 152pp.
Publication Date: August 1, 2006
* Individual store prices may vary.
Description
Each year 24 million Americans are victims of crime. U.S. taxpayers spend more and more each year on police, prisons and judges--a record $200 billion at last count. They incarcerate more and more persons each year--two million plus. Yet prestigious commissions show not only that this standard way of responding to crime is ineffective but that there is scientific proof that many projects that tackle risk factors that cause crime are effective. Rather than sending more people to jail or hiring more and more police, the author, and the research, shows that addressing problems in the community does more to prevent crime. This timely book illustrates in convincing detail what needs to be done to prevent crime and keep people out of prison.
Here, Waller shows that hiring public health nurses and investing in helping youth at risk to complete school and get job training is better than hiring more police; preventing family violence, banning hand guns and dealing with drugs through public health saves more lives than incarceration; getting close neighbors to watch out for us and better industrial design are more effective than criminal courts; smarter policing is better than more police; paying for services to support victims and guaranteeing them rights is better than more rhetoric. Addressing the social issues that lead to crime, rather than addressing crime after it happens, or putting stiffer penalties in place, will contribute to creating a safer society and to keeping kids and adults from taking the wrong path toward a life of crime.
About the Author
Irvin Waller is Professor of Criminology at University of Ottawa. He is the founding CEO of the International Centre for Prevention of Crime in Montreal. He is the author of Men Released from Prison and Burglary: The Victim and the Public. His most recent work has been in researching and writing policy pamphlets for organizations such as the U.S. Department of Justice, the Canadian Council for Social Development, the Soros Foundation, and the UN European Institute on Crime Prevention and Criminal Justice.