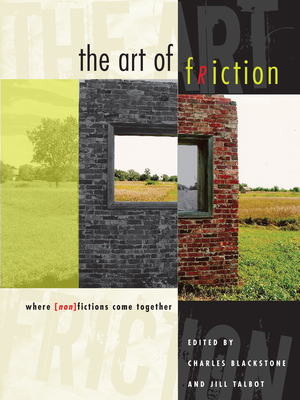 The Art of Friction (Paperback)
Where (Non)Fictions Come Together
University of Texas Press, 9780292718913, 242pp.
Publication Date: October 1, 2008
* Individual store prices may vary.
Description
"We live in an Enquirer, reality television-addled world, a world in which most college students receive their news from the Daily Show and discourse via text message," assert Charles Blackstone and Jill Talbot. "Recently, two nonfiction writers have been criticized for falsifying memoirs. Oprah excoriated James Frey on her show; Nasdijj was impugned by Sherman Alexie in Time. Is our next trend in literature to lock down such boundaries among the literati? Or should we address the fictionalizing of nonfiction, the truth of fiction?"
The Art of Friction surveys the borderlands where fiction and nonfiction intersect, commingle, and challenge genre lines. It anthologizes nineteen creative works by contemporary, award-winning writers including Junot Diaz, Jonathan Safran Foer, Thomas Beller, Bernard Cooper, Wendy McClure, and Terry Tempest Williams, who also provide companion pieces in which they comment on their work. These selections, which place short stories and personal essays (and hybrids of the two) side by side, allow readers to examine the similarities and differences between the genres, as well as explore the trends in genre overlap.
Functioning as both a reader and a discussion of the craft of writing, The Art of Friction is a timely, essential book for all writers and readers who seek the truthfulness of lived experience through (non)fictions.
or
Not Currently Available for Direct Purchase