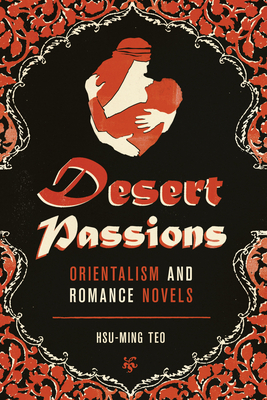 Desert Passions
Orientalism and Romance Novels
Paperback

* Individual store prices may vary.
Other Editions of This Title:
Hardcover (11/15/2012)
Description
The Sheik--E. M. Hull's best-selling novel that became a wildly popular film starring Rudolph Valentino--kindled "sheik fever" across the Western world in the 1920s. A craze for all things romantically "Oriental" swept through fashion, film, and literature, spawning imitations and parodies without number. While that fervor has largely subsided, tales of passion between Western women and Arab men continue to enthrall readers of today's mass-market romance novels. In this groundbreaking cultural history, Hsu-Ming Teo traces the literary lineage of these desert romances and historical bodice rippers from the twelfth to the twenty-first century and explores the gendered cultural and political purposes that they have served at various historical moments. Drawing on "high" literature, erotica, and popular romance fiction and films, Teo examines the changing meanings of Orientalist tropes such as crusades and conversion, abduction by Barbary pirates, sexual slavery, the fear of renegades, the Oriental despot and his harem, the figure of the powerful Western concubine, and fantasies of escape from the harem. She analyzes the impact of imperialism, decolonization, sexual liberation, feminism, and American involvement in the Middle East on women's Orientalist fiction. Teo suggests that the rise of female-authored romance novels dramatically transformed the nature of Orientalism because it feminized the discourse; made white women central as producers, consumers, and imagined actors; and revised, reversed, or collapsed the binaries inherent in traditional analyses of Orientalism.
University of Texas Press, 9780292756908, 352pp.
Publication Date: November 1, 2012
About the Author
HSU-MING TEO is a cultural historian and novelist based at Macquarie University. She coedited Cultural History in Australia and has published a range of articles and book chapters on Orientalism, travel writing, fiction, and popular culture. She won The Australian/Vogel Literary Award for her first novel, Love and Vertigo, which was also short-listed for two other fiction awards. Her second novel, Behind the Moon, was short-listed for the NSW Premier's Literary Awards.