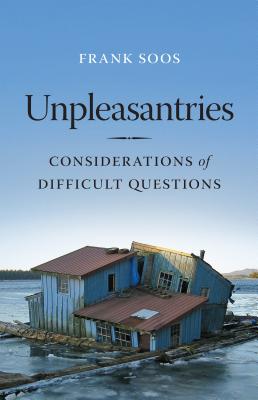 Unpleasantries
Considerations of Difficult Questions
Paperback

* Individual store prices may vary.
Other Editions of This Title:
Hardcover (6/1/2016)
Description
Even from upside-down in his recently flipped truck, Frank Soos reveals himself to be ruminative, grappling with the limitations of language to express the human condition. Moving quickly--skiing in the dark or taking long summer bike rides on Alaska highways--Soos combines an active physical life with a dark and difficult interior existence, wrestling the full span of "thinking and doing" onto the page with surprising lightness. His meditations move from fly-fishing in dangerously swift Alaska rivers to memories of the liars and dirty-joke tellers of his small-town Virginia childhood, revealing insights in new encounters and old preoccupations. Soos writes about pain and despair, aging, his divorce, his father's passing, regret, the loss of home, and the fear of death. But in the process of confronting these dark topics, he is full of wonder. As he writes at the end of an account of almost drowning, "Bruised but whole, I was alive, alive, alive."
University of Washington Press, 9780295742809, 208pp.
Publication Date: February 1, 2018
About the Author
Frank Soos is the Alaska State Writer Laureate, 2015-2016. He taught writing at the University of Alaska, Fairbanks, from 1986 until 2004. His publications include Double Moon: Constructions and Conversations (with Margo Klass), Bamboo Fly Rod Suite (essays), and Unified Field Theory (stories).
or
Not Currently Available for Direct Purchase