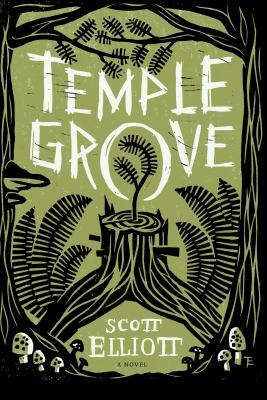 Temple Grove
Hardcover

* Individual store prices may vary.
Other Editions of This Title:
Hardcover (9/14/2015)
Paperback (8/1/2014)
Description
Deep in the heart of Washington State's Olympic Peninsula lies Temple Grove, one of the last stands of ancient Douglas fir not protected from logging. Bill Newton, a gyppo logger desperate for work and a place to hide, has come to Temple Grove for the money to be made from the timber. There to stop him is Paul, a young Makah environmentalist who will break the law to save the trees. A dangerous chase into the wilds of Olympic National Park ensues, revealing a long-hidden secret that inextricably links the two men. Temple Grove is a gripping tale of suspense and a multilayered novel of place that captures in taut, luminous prose the traditions that tie people to a powerful landscape and the conflicts that run deep among them.
Reading guide: http: //www.washington.edu/uwpress/books/TEMPLE_GROVE_reading_guide.pdf
University of Washington Press, 9780295992808, 264pp.
Publication Date: March 20, 2013
About the Author
Scott Elliott is associate professor of creative writing and English at Whitman College and author of the novel Coiled in the Heart. He lives in Walla Walla, Washington.
What is the significance of Tracy's nickname being Trace?
In what ways do worlds collide in Temple Grove?
Discuss the presentation of the loggers' views and the views of the environmentalists.
Worlds begin and end in Temple Grove. Discuss how.
How important to the plot are secrets?
Does this novel make you think about worship and faith—what it means, how we practice it, and how we treat others whose perspective may be different than ours?
Who in this novel is redeemed? Who is forgiven?
Was Bill "born again" when he emerged from the crevasse?
Can this novel be classified as environmental fiction?
In the end of the novel, Paul finds his voice. Could he have done this without chasing his father through the Olympics?
How integral is place to identity?
Could this novel take place anywhere else?
There are at least three, arguably four, fathers to Paul in this novel. How does this novel present fatherhood?
Discuss the use of music in this novel.
Did you have favorite lines in this novel? Which lines did you underline? How do those reflect the major themes of the story?
What role does the octopus Pishpish play in the story?
What is the significance to the step-father's job? What is the significance to his melt-down?
What does this book say about wisdom and certainty? Quoting page 148, "A guy could make it to thirty-eight – an age at which you thought when you were still a boy you'd have everything figured out and the world on a string – and still feel you didn't know a god-damned thing. All ages must be like this once you reached them – dim husks in comparison to the glowing prospect for wisdom and certainty they'd presented when you were young." (Contributed by Trina from Hungry for Good Books.com)
Discuss Trace as a mother and how she encouraged Paul's wonder and curiosity. On page 75 when Trace tells Paul about eons and says "So many you couldn't count that high – even if you counted for the rest of your life." He walked ahead of her, erratically counting the numbers he knew, and she wished him time enough to count an eon." (Contributed by Trina from Hungry for Good Books.com)
What does this book say about loyalty?
or
Not Currently Available for Direct Purchase