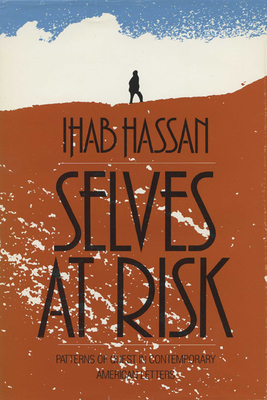 Selves At Risk
Patterns of Quest in Contemporary American Letters (Wisconsin Project on American Writers)
Hardcover

* Individual store prices may vary.
Description
In this era of supersonic jets, ubiquitous McDonalds, and pervasive Panasonics, in our coddled jacuzzi culture, our cybernetic society of acronyms and first names, does the spirit of quest endure? Indeed, from rain forests, across oceans, steppes, savannahs, and saharas to the peaks of the Andes or Himalayas, American writers still test the limits of human existence. They test spirit, flesh, marrow, and imagination in a timeless quest for meaning beyond civilization, at the razor edge of mortality. And they return with sun-cracked skin and gazes honed on horizons to tell us the tale.

"Ihab Hassan's new book on quests turns out to be a quest of his own. He takes us through an invigorating range of today's American writers as they test themselves against the far corners of our tattered planet. Hassan shows us how their quests (and, incidentally, his own) entwine risks, commitments, and desperate exercises in belief, how their aspirations are human but uniquely American. This is a book everyone interested in American culture can learn from—and enjoy. Hassan's voice is one of graceful wisdom and passionate elegance, a refreshing landfall in today's turgid sea of criticism."
—Norman N. Holland, University of Florida
University of Wisconsin Press, 9780299123703, 246pp.
Publication Date: December 15, 1989
About the Author
Ihab Hassan (1925–2015) was emeritus Vilas Professor of English and comparative literature at the University of Wisconsin–Milwaukee, and author of more than 300 articles and reviews and of numerous books including The Postmodern Turn: Essays in Postmodern Theory and Culture.