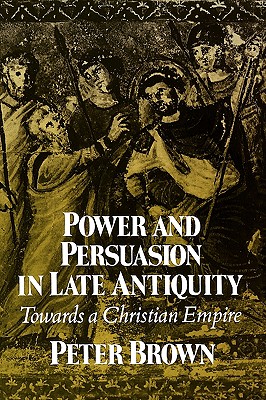 Power & Persuasion Late Antiquity (Paperback)
Towards A Christian Empire (Curti Lecture Series)
University of Wisconsin Press, 9780299133443, 192pp.
Publication Date: October 15, 1992
* Individual store prices may vary.
Description
Peter Brown, perhaps the greatest living authority on Mediterranean civilization in late antiquity, traces the growing power of Christian bishops as they wrested influence from philosophers, who had traditionally advised the rulers of Graeco-Roman society.  In the new "Christian empire," the ancient bonds of citizen to citizen and of each city to its benefactors were replaced by a common Christianity and common loyalty to a distant, Christian autocrat.  This transformation of the Roman empire from an ancient to a medieval society, he argues, is among the most far-reaching consequences of the rise of Christianity.

About the Author
Peter Brown is the Rollins Professor of History at Princeton University.  He has also taught at Oxford University, the University of London, and the University of California.  Among his many books are The Body and Society, The Cult of the Saints, Society and the Holy in Late Antiquity, and Augustine of Hippo.

Praise For Power & Persuasion Late Antiquity: Towards A Christian Empire (Curti Lecture Series)…
"A new book by Peter Brown is clearly an event. . . .  Peter Brown is a writer of highly emotive as well as extremely clever prose. . . . The Curti lectures complete the sequence of studies of the Christianisation of late antiquity on which Peter Brown has been engaged since the publication of Augustine of Hippo (1967).  One by one, these studies have illuminated the world of late antiquity (the term he has made his own) by reference to what has preceded it. "—Averil Cameron, London Times Higher Education Supplement

"There are few areas of humane scholarship so daunting as the study of late antiquity, that period when Christianity gradually conquered the mind and heart of the foundering Roman empire.  Peter Brown is a widely recognized master of this pivotal moment of history. . . . What characterizes Brown's work is his graceful, even ingratiating style, one that makes the most esoteric-seeming matter engaging."—Washington Post

"Peter Brown combines a witty and ironic prose style with the gifts of a first-class historian of late antiquity possessing an exhaustive knowledge of the sources.  His latest book will certainly win him new admirers and delight old friends.  The central question of Power and Persuasion in Late Antiquity is a perennial issue in human affairs, but Mr. Brown focuses particularly on the Roman Empire in the 200 years after Constantine the Great, who died in A.D. 337.  How did the empire control its citizens?  And what difference to the style of that control did church leaders make as the empire became converted to Christianity? . . .  His telling is enriched by delectable details and acute, original observations."—Henry Chadwick, New York Times Book Review

"The ability to provide fresh approaches to issues that date back to Gibbon's mordant phrases is surely one of the qualities that has made Peter Brown, now at Princeton, the preeminent contemporary historian of late antiquity."—Carl L. Bankston III, Commonwealth