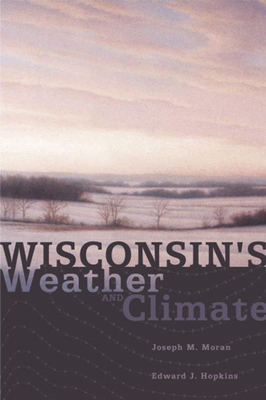 Wisconsin's Weather and Climate (Paperback)
University of Wisconsin Press, 9780299171841, 344pp.
Publication Date: January 8, 2003
* Individual store prices may vary.
Description
The land that is now called Wisconsin has a place in weather history. Its climate has ranged from tropical to polar over hundreds of millions of years—and even today, that's the seeming difference between July and January here. And Wisconsinites have played key roles in advancing the science of meterology and climatology: Increase Lapham helped found the National Weather Service in the nineteenth century; Eric Miller was the first to broadcast regular weather reports on the radio in the 1920s; Verner Suomi pioneered tracking weather by satellite; and Reid Bryson has been a leader in studying global climate change.
Wisconsin's Weather and Climate is written for weather buffs, teachers, students, outdoor enthusiasts, and those working in fields, lakes, and forests for whom the weather is a daily force to be reckoned with. It examines the physical features of Wisconsin that shape the state's climate—topography, mid-latitude location, and proximity to Lakes Superior and Michigan—and meteorological phenomena that affect climate, such as atmospheric circulation and air mass frequency. Authors Joseph M. Moran and Edward J. Hopkins trace the evolution of methods of weather observation and forecasting that are so important for agriculture and Great Lakes commerce, and they explain how Wisconsin scientists use weather balloons, radar, and satellites to improve forecasting and track climate changes. They take readers through the seasonal changes in weather in Wisconsin and give an overview of what past climate changes might tell us about the future.
Appendices provide climatic data for Wisconsin, including extremes of temperature, snowfall, and precipitation at selected stations in the state. The authors also list sources for further information.

Vignettes throughout the book provide fascinating weather lore:

o Why there are cacti in Wisconsin
o The famous Green Bay Packers–Dallas Cowboys "Ice Bowl" game of 1967
o The Army Signal Corps' ban on the word tornado
o Advances in snow-making technology
o The decline of the Great Lakes ice industry

About the Author
Joseph M. Moran is the Barbara Hauxhurst Cofrin Professor of Natural Sciences and chair of the Department of Earth Science at the University of Wisconsin Green Bay. He has been Scientist in Residence for the American Meteorological Society and has published extensively on meteorological topics. Edward J. Hopkins teaches in the Department of Atmospheric and Oceanic Sciences at the University of Wisconsin Madison. He served as the principal investigator for the EarthLab Project and has published widely on meteorology and meteorological education."