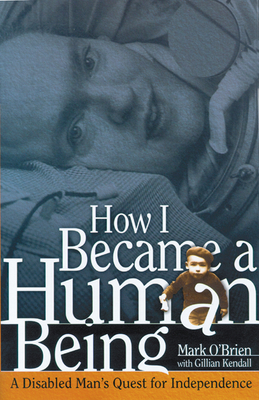 How I Became a Human Being: A Disabled Man's Quest for Independence (Paperback)
A Disabled Man's Quest for Independence
University of Wisconsin Press, 9780299184346, 280pp.
Publication Date: October 30, 2012
Description
In September 1955 six-year-old Mark O'Brien moved his arms and legs for the last time. He came out of a coma to find himself enclosed from the neck down in an iron lung, the machine in which he would live for much of the rest of his life.
    For the first time in paperback, How I Became a Human Being is O'Brien's account of his struggles to lead an independent life despite a lifelong disability. In 1955 he contracted polio and became permanently paralyzed from the neck down. O'Brien describes growing up without the use of his limbs, his adolescence struggling with physical rehabilitation and suffering the bureaucracy of hospitals and institutions, and his adult life as an independent student and writer. Despite his physical limitations, O'Brien crafts a narrative that is as rich and vivid as the life he led.
About the Author
Mark O Brien was a published poet and cofounder of the Lemonade Factory. He died in 1999 at the age of forty-nine just after completing a draft of How I Became a Human Being. Gillian Kendall is author of Mr. Ding s Chicken Feet: On a Slow Boat from Shanghai to Texas and editor of Something to Declare: Good Lesbian Travel Writing, also published by the University of Wisconsin Press."
Praise For How I Became a Human Being: A Disabled Man's Quest for Independence…
"O'Brien conveys his pain, his suffering, his depression, his anomie—without resorting to tugging at our heartstrings."—Felice Picano, author of Like People in History
Advertisement