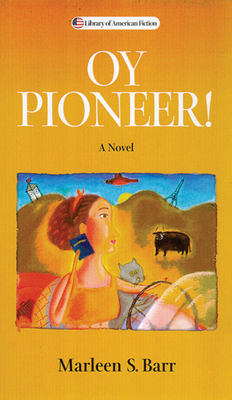 Oy Pioneer! (Hardcover)
University of Wisconsin Press, 9780299189105, 264pp.
Publication Date: October 17, 2003
* Individual store prices may vary.
or
Not Currently Available for Direct Purchase
Description
What would happen if a feminist Jewish wit and scholar invaded David Lodge's territory? Marleen S. Barr, herself a pioneer in the feminist criticism of science fiction, provides a giddily entertaining answer in this feisty novel. Oy Pioneer! follows professor Sondra Lear as she makes her inimitable way through a world of learning—at times fantastic, at times all too familiar, often hilarious, and always compulsively interesting.
    As if Mel Brooks and Erica Jong had joined forces to recreate Sex and the City for the intellectual set, the story is a heady mix of Jewish humor, feminist insight, and academic satire. Lear is a tenured radical and a wildly ambitious intellectual, but is subject nonetheless to the husband-hunting imperatives of her Jewish mother. Her adventures expand narrative parameters according to Barr's term "genre fission."
    Mixing elements of science fiction, fantasy, ethnic comedy, satire, and authentic experience of academic life, Oy Pioneer! is uncommonly fun—a Jewish feminist scholar's imaginative text boldly going where no academic satire has gone before—and bringing readers along for an exhilarating ride.
About the Author
Marleen S. Barr teaches at Montclair State University and is a visiting scholar at Columbia University. Her many works include Genre Fission and Feminist Fabulation and, as editor, Envisioning the Future and the science fiction issue of the journal PMLA.
Advertisement