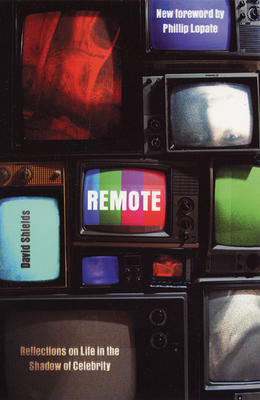 Remote (Paperback)
Reflections on Life in the Shadow of Celebrity
University of Wisconsin Press, 9780299193645, 192pp.
Publication Date: September 23, 2003
* Individual store prices may vary.
Description
In this truly one-of-a-kind book, the author/narrator—a representative, in extremis, of contemporary American obsession with beauty, celebrity, transmitted image—finds himself suspended, fascinated, in the remoteness of our wall-to-wall mediascape. It is a remoteness that both perplexes and enthralls him.
    Through dazzling sleight of hand in which the public becomes private and the private becomes public, the entire book—clicking from confession to family-album photograph to family chronicle to sexual fantasy to pseudo-scholarly footnote to reportage to personal essay to stand-up comedy to cultural criticism to literary criticism to film criticism to prose-poem to litany to outtake —becomes both an anatomy of American culture and a searing self-portrait.
    David Shields reads his own life—reads our life—as if it were an allegory about remoteness and finds persuasive, hilarious, heartbreaking evidence wherever he goes.
Winner of the PEN / Revson Award?
About the Author
David Shields is the author of three other nonfiction books, Black Planet (a finalist for the National Book Critics Circle Award), Enough About You, and Baseball Is Just Baseball; two novels, Dead Languages and Heroes; and a collection of connected stories, A Handbook for Drowning. His essays and stories have appeared in dozens of periodicals, including the New York Times Magazine, Harper's, Yale Review, Village Voice, Salon, Slate, McSweeney's, and Utne Reader. He lives in Seattle, where he is professor of English at the University of Washington.
Praise For Remote: Reflections on Life in the Shadow of Celebrity…
"Remote should, in retrospect, be seen as one of the definitive texts of the 1990s . . . a mordant meditation on the odd way we live now—in the thrall of celebrity, at the mercy of the media, at once desperate for authenticity and in love with artifice."—A. O. Scott, Newsday
"An idiosyncratic, droll, ravishing assemblage that both investigates and replicates the fragmented, irony-poisoned, celebrity-obsessed consciousness of fin de siècle America."—Kirkus Reviews
"The talented Mr. Shields gives us a clever collection of vignettes, descriptions, commentaries, and aperçus held together by the author's voice and a finely tuned sense of the absurd. . . . Remote is elliptical, funny, and ironic."—Michiko Kakutani, New York Times
"An extraordinary book—wholly absorbing, brilliant, and utterly Shields's own. Early on, I thought of the word 'extrospective' to describe its wonderfully paradoxical method: one follows a character who is built out of the transient material of American popular culture but who turns into as singular a voice and (all irony intended) 'personality' as anyone now writing in America." —Jonathan Raban
"In the current craze of personal and family memoirs, David Shields's Remote is unique. It's a mishmash, a potpourri; it's impersonal, it's embarrassingly revealing. It's very funny, and it tells us more than we want to know about American life."—Carolyn See, Washington Post