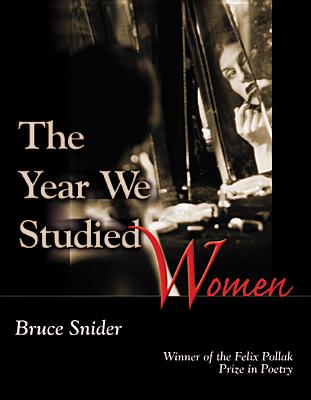 Year We Studied Women (Wisconsin Poetry Series #2003)
Paperback

* Individual store prices may vary.
Description
In this intimate first collection Bruce Snider explores the intricacies of memory, loss, and identity in poems about everything from algebra to sperm to lipstick. A farmer finds the body of a dead child, a boy watches his mother get ready for a date, a woman with cancer shops for a wig, an overweight sister shares a cupcake with her little brother. In the book's longest and most complex poem a tarot card reading excavates the relationship between a son and his distant, often violent father. Sometimes funny, always big-hearted and inventive, Snider catalogues the minutiae of daily life with language that is plainspoken yet strongly imagistic, weaving together both public and private moments as he maps one man's longing for transformation. It's an attempt to reconcile it all—past and present, fear and desire, self and sexuality—making the barest symbols of maleness and femaleness into their own deeply personal language.

Praise For Year We Studied Women (Wisconsin Poetry Series #2003)…
"During a time when first collections are apt to be a little too cautious and disappointingly arid, it's a pleasure to encounter the verve and self-assurance of Bruce Snider's debut. His voice is always engaging; his imagery is original, and his poems know how to make the difficult leap from hilarity to pathos. His is writing that matters."—David Wojahn


"Bruce Snider's superb poems seem to have come into being without any need to impress or prove a point or compete. They are pure in that way, content and courageous enough to be what they are: observant, expressive, sometimes sad, sometimes slyly witty, always true to a trajectory that is purposeful and swift even as it takes surprising turns. Undistracted by what they have to say, these poems say it fully and convincingly, so that the poet appears on the page by virtue of never calling attention to himself. That wonderful, uncommon paradox, that art."—Kelly Cherry


"How can poems be so fierce and so delicate all at once? Bruce Snider is a master of elegant movements, turning phrases and layering images to create a supple, velveteen texture of words. His penetrating gaze never wavers. Mystery stitches its luminous seam through the lines. These poems are comforting in their perfection. One plus one equals everything here."—Naomi Shihab Nye

University of Wisconsin Press, 9780299193843, 112pp.
Publication Date: October 6, 2003
About the Author
Bruce Snider is originally from rural Indiana and has lived for the past several years in Austin, Texas, where he was a James A. Michener Fellow and earned his MFA in poetry and playwriting at the University of Texas Michener Center for Writers. He is currently a Wallace Stegner Fellow at Stanford University. His poetry has appeared in the Mid-American Review, Prairie Schooner, Third Coast, and Hayden's Ferry Review. This is his first book.