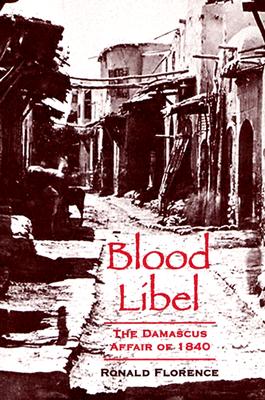 Blood Libel (Hardcover)
The Damascus Affair of 1840
University of Wisconsin Press, 9780299202804, 257pp.
Publication Date: October 18, 2004
* Individual store prices may vary.
Description
In Damascus in February 1840, a Capuchin monk and his servant disappear without a trace. By the end of the day, rumors point at the local Jewish community, a tiny minority in the city. Within weeks, the rumors turn to accusations of ritual murder the infamous blood libel. Torture, coerced confessions, manufactured evidence, and the fury of the crowds are enough to convict the accused Jews. By the time the rest of the world learns of the events in Damascus, the entire leadership of the Jewish community is awaiting execution.
"Blood Libel" is a story of unexpected history. If the charges of ritual murder seem familiar similar accusations have been heard in Europe for centuries and are heard in the Middle East today nothing in Damascus happened as we, or contemporaries, might have anticipated. The accusers of the Jews were not the Muslim majority. The French consul, the representative of the nation that had given the world the Rights of Man and had been the first to grant Jews the full right of citizenship, was the chief prosecutor. The British consul, serving under the enlightened Lord Palmerston and the new Queen, aided the prosecution. The American consul supported the charges. The Sultan, famed for the excesses of his court and his arbitrary rule of the vast Ottoman empire, and the Austrians, who tightly restricted the rights of Jews in their own empire, defended the accused Jews. The venerable London Times printed reports that defied its liberal reputation, while conservative Austrian and French newspapers took the equally unexpected opposite stand. As news of the Damascus accusations spread, diplomacy and confused loyalties made for strange bedfellows.
Misperceptions, mutual fears, and isolation fueled the passions in Damascus. When the affair and the implications for the perceptions of world Jewry became a cause celebre in Europe and the Americas, the priorities of diplomacy intervened: a rescue mission forgot the real victims in Damascus, and the fabric of a society that had once stretched to tolerate minorities finally burst in an outrage of fears turned to fury. The legacies of that torn fabric are the divisions of the Middle East today and the continuing myths that feed and sustain the fervor of anti-Semitism.
About the Author
Ronald Florence is an historian and novelist. He is the author of "The Gypsy Man," "The Perfect Machine," and "The Last Season." He lives in Providence, Rhode Island.
Praise For Blood Libel: The Damascus Affair of 1840…
"These days, when old, outdated anti-Semitic lies are being used in too many circles against the Jewish people, this book is important to all those who feel compelled to denounce them."Elie Wiesel
"There are few more dramatic stories of nineteenth century Jewish history than that of the Damascus affair. Ronald Florence tells a mesmerizing tale with all the flair of a master story-teller, blending the story of what happened in Damascusand the horrifying torture of the Jews therewith the parallel and equally compelling story of the international struggle among the world's great powers that ultimately determined the Jews' fate. The epic clash of Jews, Muslims, and Christians of over a century and a half ago, the Damascus case resonates all too painfully today. Filled with mystery and suspense, Blood Libel is an engrossing read."David Kertzer, author of The Popes Against the Jews and The Kidnapping of Edgardo Mortara
 "Florence shapes his work around the history of events in Damascus in 1840, pulling readers in from the beginning in a way that characterizes a well-told novel while never giving way to the temptation to abandon historical accuracy and well-grounded research."Maud Mandel, author of In the Aftermath of Genocide: Armenians and Jews in Twentieth Century France
"The blood libel legend [is] one of the most pernicious pieces of traditional folklore ever created. This splendid book could well serve as a valuable cautionary tale warning of what terrible consequences such malicious legends can cause."Alan Dundes, editor of The Blood Libel Legend: A Casebook in Anti-Semitic Folklore
or
Not Currently Available for Direct Purchase