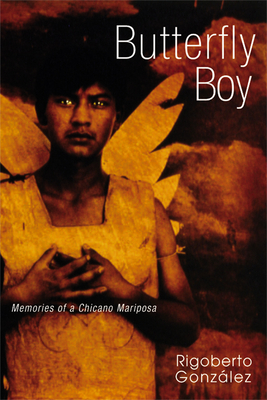 Butterfly Boy (Hardcover)
Memories of a Chicano Mariposa
University of Wisconsin Press, 9780299219000, 207pp.
Publication Date: June 1, 2006
* Individual store prices may vary.
Description
Heartbreaking, poetic, and intensely personal, Butterfly Boy is a unique coming out and coming-of-age story of a first-generation Chicano who trades one life for another, only to discover that history and memory are not exchangeable or forgettable.
Growing up among poor migrant Mexican farmworkers, Rigoberto Gonzalez also faces the pressure of coming-of-age as a gay man in a culture that prizes machismo. Losing his mother when he is twelve, Gonzalez must then confront his father's abandonment and an abiding sense of cultural estrangement, both from his adopted home in the United States and from a Mexican birthright. His only sense of connection gets forged in a violent relationship with an older man. By finding his calling as a writer, and by revisiting the relationship with his father during a trip to Mexico, Gonzalez finally claims his identity at the intersection of race, class, and sexuality. The result is a leap of faith that every reader who ever felt like an outsider will immediately recognize.
2007 Finalist, Randy Shilts Awards for Gay Nonfiction, Publishing Triangle Winner, American Book Awards, Before Columbus Foundation
About the Author
Rigoberto Gonzalez is the author of So Often the Pitcher Goes to Water until It Breaks, a selection of the National Poetry Series, and of Other Fugitives and Other Strangers. A recipient of Guggenheim and NEA Fellowships and of several international artist residencies, he has also written two children's picture books, a literary biography, and an award-winning novel, Crossing Vines. He is on the Advisory Circle of Con Tinta--a coalition of Chicano/Latino activist writers. He works and lives in New York City.
Praise For Butterfly Boy: Memories of a Chicano Mariposa…
"A deeply-felt work that belongs in the company of classic American memoirs such as I Know Why the Caged Bird Sings, When I Was Puerto Rican, and Hunger of Memory. Where it differs most memorably from those books is in its uncompromising depiction of a young person's sexual orientation. Engrossing, supremely enjoyable, and beautifully written."—Jaime Manrique, author of Eminent Maricones

"Rigoberto González is a writer who walks, with an elegant gait, the line between sorrow and laughter, anger and acceptance. His prose is shaped by the poetry of irony. And he is a master of it."—Richard Rodriguez, author of Brown: The Last Discovery of America

"In this very personal and poignant autobiography, González narrates his coming-of-age and outing as a gay man amid the poverty, illiteracy, and abuse—but also love—of his family and community. Fast-moving and told in lucid, visually striking language, this autobiography is sure to make a place for itself."—Silvia D. Spitta, Dartmouth College
or
Not Currently Available for Direct Purchase