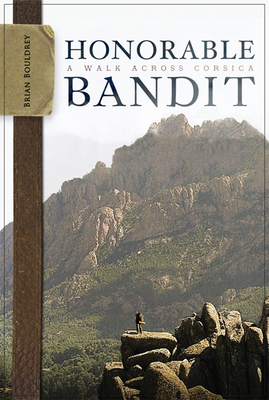 Honorable Bandit
A Walk across Corsica
Hardcover

* Individual store prices may vary.
Description
Brian Bouldrey traveled to the island of Corsica, with its wine-dark Mediterranean waters, powdered-sugar beach sand, sumptuous cuisine, and fine wine. And then he walked away from all of them.
     Bouldrey strapped on a backpack and walked across Napoleon's native land with the same spirit many choose to dance or drink: to celebrate, to mourn, to think, to avoid thinking, to recall, to ignore, to escape, and to arrive.
     This wonderfully textured account of a two-week ramble along a famous Corsican hiking trail with his German friend Petra (she was good at the downhills while he was better at the uphills) offers readers a journal that is a launching point for reflection: thoughts on cultural differences, friendship, physical challenge, personal challenge, and getting very, very lost. Part travelogue, part memoir, and part lampoon, this book offers readers an impressionistic view of a little talked about yet stunningly beautiful landscape.
Best Books for General Audiences, selected by the American Association of School Librarians and the Public Library Association Runner-up, Best Travel Book, National Association of Travel Journalists
Praise For Honorable Bandit: A Walk across Corsica…
"A remarkable achievement. Deeply felt, humorous, and extremely wise, Honorable Bandit takes the reader on a journey across Corsica, but even more takes us on a charged—Dantean, at times—journey that explores the nuanced corners of life: our most intimate infernos, purgatories, and paradisios, all on one island."—Tim Miller, author of 1001 Beds


"Reading Honorable Bandit, you enter not just another country but also the secret door into Brian Bouldrey's head, and that is the real fun, living inside this wonderful, wonderful writer with his sly humor and infectious tenderness for the world. I didn't want the book to ever end."—Sharman Apt Russell, author of Hunger: An Unnatural History and An Obsession with Butterflies
 

"One of the many pleasures of this book is its deceptive humility. Bouldrey reminds us that being human is something we must—and can only—do one thoughtful, measured, grateful step at a time."
—Rebecca Brown, author of Excerpts from a Family Medical  Dictionary and The End of Youth
University of Wisconsin Press, 9780299223205, 296pp.
Publication Date: September 12, 2007
About the Author
Brian Bouldrey has written six books and edited six anthologies, including three volumes of Best American Gay Fiction. His edited collection Wrestling with the Angel: Faith and Religion in the Lives of Gay Men won a Lambda Literary Award and his memoir Monster: Adventures in American Machismo, was a Lambda finalist. He is author of  the novel The Boom Economy: Or, Scenes from Clerical Life, also published by the University of Wisconsin Press. He teaches creative writing at Northwestern University.

or
Not Currently Available for Direct Purchase