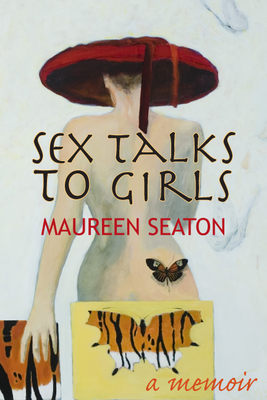 Sex Talks to Girls
Hardcover

* Individual store prices may vary.
Other Editions of This Title:
Paperback (6/7/2018)
Description
Sex Talks to Girls chronicles the outward antics of a woman on an inward journey to self through the routes of religion, sex, sobriety, and kids. Recasting herself in this memoir as "Molly Meek," Maureen Seaton interprets the emergence of Molly's identity in luxurious and very funny prose. Molly alternately finds herself in the surprising company of winos, swingers, and drag kings; in love with Jesus H. Christ and a butch named Mars; in charge of two children; writing stories that shrink painfully to poems without her permission; and incapable of figuring out how she landed in any of these predicaments. She is, by turns, a little saint, a Stepford wife, a bi-mom, and a femme with super powers. Her transformation--from near-nun to full-fledged sexual being, accidentally becoming conscious in the process and delighting in the spree--is the story of a life set on play and a woman heroically committed to seeing it through. Winner, Lesbian Memoir/Biography, Lambda Literary Foundation Book Awards.
Praise For Sex Talks to Girls…
"What can I say? I loved this book! From the first sentence, Sex Talks to Girls caught me, held me—often torn between laughter and tears—in the bold, brave palm of its generous hand. A fierce, fresh, funhouse ride through the mirrored maze that constitutes one woman's coming of age—and into her own full powers."—A. Manette Ansay, author of Limbo and Vinegar Hill 

"The journey toward authenticity, toward becoming whole is made palpable in Maureen Seaton's Sex Talks to Girls: A Memoir. It shines its considerable light on the passage from religion toward faith, from self-medication to sobriety, from daughterhood to motherhood, from being the disembodied 'good girl' to embracing her own bad lesbian self. In crisp chapters, Seaton leads us, step-by-step, over this harrowing and blissful road, so distinct from yet so much like our own."—Terry Wolverton, author of Insurgent Muse: Life and Art at the Woman's Building 

"Sex Talks to Girls presents us with a recognizable life, not the one with a happy ending but the one that is lived one day at a time. Seaton fills her pages with pathos and humor."—Elena Georgiou, author of Mercy, Mercy Me


"In Sex Talks to Girls, Maureen Seaton compellingly narrates her passage through a host of roles—pious adolescent, Stepford wife, recovering alcoholic, sexual adventurer and bi mom—on the way to discovering her identity as sober lesbian poet. . . .Fast-paced and engaging, Seaton's memoir builds momentum with snappy prose and very short chapters, some merely a few sentences, none longer than three pages. One can discern a poet's sense of economy in these brief chapters."—Katherine D. Stutzman, Pleiades
University of Wisconsin Press, 9780299228804, 199pp.
Publication Date: October 1, 2008
About the Author
Maureen Seaton is the author of six poetry collections, including Cave of the Yellow Volkswagen and Furious Cooking. She is the recipient of the Lambda Award, the Audre Lorde Award, the Iowa Prize for Poetry, an NEA fellowship, and the Pushcart Prize. She is associate professor of English at the University of Miami, where she teaches poetry and literary collage.
or
Not Currently Available for Direct Purchase