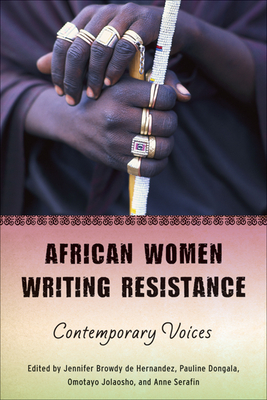 African Women Writing Resistance
An Anthology of Contemporary Voices (Women in Africa and the Diaspora)
Paperback

* Individual store prices may vary.
Description
African Women Writing Resistance is the first transnational anthology to focus on women's strategies of resistance to the challenges they face in Africa today.  The anthology brings together personal narratives, testimony, interviews, short stories, poetry, performance scripts, folktales, and lyrics. Thematically organized, it presents women's writing on such issues as intertribal and interethnic conflicts, the degradation of the environment, polygamy, domestic abuse, the controversial traditional practice of female genital cutting, Sharia law, intergenerational tensions, and emigration and exile.
    Contributors include internationally recognized authors and activists such as Wangari Maathai and Nawal El Saadawi, as well as a host of vibrant new voices from all over the African continent and from the African diaspora. Interdisciplinary in scope, this collection provides an excellent introduction to contemporary African women's literature and highlights social issues that are particular to Africa but are also of worldwide concern.  It is an essential reference for students of African studies, world literature, anthropology, cultural studies, postcolonial studies, and women's studies.
A
Choice
Outstanding Academic Book
Outstanding Book, selected by the Public Library Association
Best Books for High Schools, Best Books for Special Interests, and Best Books for Professional Use, selected by the American Association of School Libraries
Praise For African Women Writing Resistance: An Anthology of Contemporary Voices (Women in Africa and the Diaspora)…
"Deeply personal and accessible. African Women Writing Resistance is a timely contribution, capturing a diverse range of responses to the struggles of African women today."—Carole Boyce Davies, Cornell University
"African Women Writing Resistance: An Anthology of Contemporary Voices collects writing of thirty-six women from thirteen African countries, providing a metaphorical megaphone to those women and a clear, unflinching look at what it's like to be female and oppressed in their respective countries. The picture thus drawn is anything but pretty, but contains the seedlings of hope and change."—ForeWord
"Resistance, when effective, brings change. Reading African Women Writing Resistance will erase disinterest and ennui, and perhaps that is the first step toward supporting these writers' admirable goals."—ForeWord
University of Wisconsin Press, 9780299236649, 360pp.
Publication Date: August 19, 2010
About the Author
Jennifer Browdy de Hernandez is professor of comparative literature and gender studies at Bard College at Simon's Rock. Pauline Dongala fled Congo-Brazzaville in 2000 and is working on a book about the importance of traditional African healing practices in the contemporary world. Omotayo Jolaosho, a doctoral candidate in the Department of Anthropology at Rutgers University, works on issues of performance, creativity, and community activism in South Africa. Anne Serafin is an independent scholar specializing in African literatures.