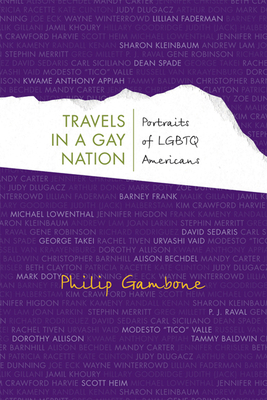 Travels in a Gay Nation
Portraits of LGBTQ Americans (Living Out: Gay and Lesbian Autobiog)
Paperback

* Individual store prices may vary.
Description
For two years, Philip Gambone traveled the length and breadth of the United States, talking candidly with LGBTQ people about their lives. In addition to interviews from David Sedaris, George Takei, Barney Frank, and Tammy Baldwin, Travels in a Gay Nation brings us lesser-known voices—a retired Naval officer, a transgender scholar and "drag king," a Princeton philosopher, two opera sopranos who happen to be lovers, an indie rock musician, the founder of a gay frat house, and a pair of Vermont garden designers.
    In this age when contemporary gay America is still coming under attack, Gambone captures the humanity of each individual. For some, their identity as a sexual minority is crucial to their life's work; for others, it has been less so, perhaps even irrelevant. But, whether splashy or quiet, center-stage or behind the scenes, Gambone's subjects have managed—despite facing ignorance, fear, hatred, intolerance, injustice, violence, ridicule, or just plain indifference—to construct passionate, inspiring lives.
 Finalist, Foreword Magazine's Anthology of the Year

Outstanding Book in the High School Category, selected by the American Association of School Libraries

Best Book in Special Interest Category, selected by the Public Library Association

Praise For Travels in a Gay Nation: Portraits of LGBTQ Americans (Living Out: Gay and Lesbian Autobiog)…
"This collection of interviews with gay activists and artists is like going to dinner with people you'd love to know but don't, and Phil Gambone is the perfect stand-in for the reader: impressively prepared, sympathetic, and smart."—Andrew Holleran, author of
Grief: A Novel
"By asking good questions and really listening, Philip Gambone opens an illuminating window into the minds, hearts, and guts of a fabulous array of extraordinary Americans. At this critical time in America's decades-long movement toward LGBTQ equality, you really shouldn't miss this view."—Will Fellows, author of
Farm Boys: Lives of Gay Men from the Rural Midwest
"Gambone is a smart interviewer with a laid-back, engaging style, and he knows how to bring out the most interesting qualities of his subjects. He clearly admires them all and makes us admire them, too. . . . An eclectic front-to-back reading experience."—Library Journal
"This collection of rainbow-hued recollections is a must-read for anyone curious about other people's coming out experiences and the complex struggles that brought them to where they are today."—Bay Area Reporter
"Gambone traveled the country for two years to bring the stories of gay artists, activists, and everyday queer folk to light through interviews that are candid, honest, and down-to-earth; his thoughtfully crafted questions, deep and respectful listening, and masterful storytelling skills highlight what gay America has in common with straight America, and what it is that makes the LGBTQ community decidedly different. . . . Travels in a Gay Nation: Portraits of LGBTQ Americans is an engaging, moving, entertaining, and informative introduction to and affirmation of LGBTQ citizens who, in spite of the injustice, fear, inequality, and intolerance that they face on a daily basis, manage to create lives filled with passion, color, creativity, and service."—ForeWord
"Reading Philip Gambone's new book of profiles, Travels in a Gay Nation: Portraits of LGBTQ Americans, is like watching a really good, really gay Barbara Walters Most Fascinating People special. Gambone delivers his subjects' backstories, where they are now, a sense of what makes them tick, and sometimes, just like Walters, he gets tears. . . . Though Gambone's writing is vivid, compassionate, and concise, what really comes across in Travels is how easy he is to talk to. "—Advocate
"A thread of activism and universal accounts of coming out run through all the entries, but what really sparkles is the individuality of the interviewees."—Pride Source
"Whether famous or relatively unknown, the portraits Gambone unveils in Travels in a Gay Nation move, surprise, quite often inspire, and are always deeply human."—The Boston Spirit
University of Wisconsin Press, 9780299236847, 308pp.
Publication Date: June 30, 2010
About the Author
Philip Gambone teaches English at Boston University Academy and at the Harvard Extension School. An award-winning essayist, journalist, and fiction writer, he is author of Something Inside: Conversations with Gay Fiction Writers and Beijing: A Novel, both published by the University of Wisconsin Press.