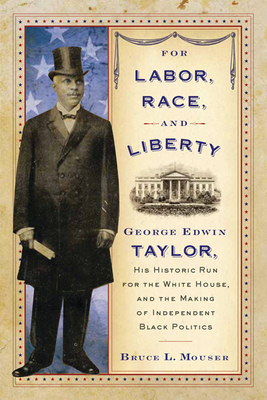 For Labor, Race, and Liberty (Paperback)
George Edwin Taylor, His Historic Run for the White House, and the Making of Independent Black Politics
University of Wisconsin Press, 9780299249144, 278pp.
Publication Date: January 21, 2011
* Individual store prices may vary.
Description
More than one hundred years before Barack Obama, George Edwin Taylor made presidential history. Born in the antebellum South to a slave and a freed woman, Taylor became the first African American ticketed as a political party's nominee for president of the United States, running against Theodore Roosevelt in 1904.
    Orphaned as a child at the peak of the Civil War, Taylor spent several years homeless before boarding a Mississippi riverboat that dropped him in La Crosse, Wisconsin. Taken in by an African American farm family, Taylor attended a private school and eventually rose to prominence as the owner/editor of a labor newspaper and as a vocal leader in Wisconsin's People's Party. At a time when many African Americans felt allegiance to the Republican Party for its support of abolition, Taylor's sympathy with the labor cause drew him first to the national Democratic Party and then to an African American party, the newly formed National Liberty Party, which in 1904 named him its presidential candidate. Bruce L. Mouser follows Taylor's life and career in Arkansas, Illinois, Wisconsin, Iowa, and Florida, giving life to a figure representing a generation of African American idealists whose initial post-slavery belief in political and social equality in America gave way to the despair of the Jim Crow decades that followed.


Best Books for Special Interests, selected by the American Association for School Libraries
Best Books for Professional Use, selected by the American Association for School Libraries
Best Books for General Audiences, selected by the Public Library Association
Second Place, Biography, Society of Midland Authors

Honorable Mention, Benjamin F. Shambough Award, the State Historical Society of Iowa
About the Author
Bruce L. Mouser is professor emeritus of history at the University of Wisconsin La Crosse."
Praise For For Labor, Race, and Liberty: George Edwin Taylor, His Historic Run for the White House, and the Making of Independent Black Politics…
"The best piece of historical detective work I have seen since John Hope Franklin's work on George Washington Williams. At every turn it brings new findings and insights about the political experiences of African Americans. Superb and pioneering work."—Hanes Walton Jr., author of American Politics and the African American Quest for Universal Freedom
"A generation before A. Philip Randolph, Adam Clayton Powell Jr., and Ella Baker, there was George Edwin Taylor. Rich in detail, this compelling story sheds light on black labor struggles in the Upper Midwest and brings to life an American civil rights hero and pioneer of independent black politics at the turn of the twentieth century."—Omar H. Ali, author of In the Balance of Power: Independent Black Politics and Third Party Movements in the United States
"An excellent biography of a forgotten but important leader." —The Annals of Iowa
"Mouser's biography is a triumph of detective work conducted over many years. . . . [T]hanks to Mouser's quoting of many of Taylor's editorials and political platforms in full, we do get a chance to ponder his political statements in detail and thus get a glimpse into a world of northern black politics that has so often been neglected."—Stephen Tuck, Presidential Studies Quarterly