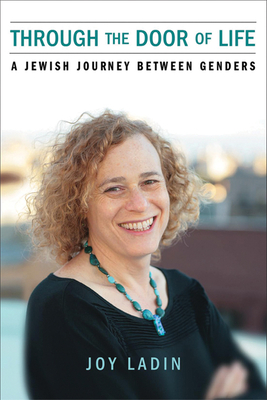 Through the Door of Life
A Jewish Journey Between Genders
Hardcover

* Individual store prices may vary.
Other Editions of This Title:
Paperback (10/8/2013)
MP3 CD (7/12/2016)
Description
Professor Jay Ladin made headlines around the world when, after years of teaching literature at Yeshiva University, he returned to the Orthodox Jewish campus as a woman Joy Ladin. In "Through the Door of Life," Joy Ladin takes readers inside her transition as she changed genders and, in the process, created a new self.
With unsparing honesty and surprising humor, Ladin wrestles with both the practical problems of gender transition and the larger moral, spiritual, and philosophical questions that arise. Ladin recounts her struggle to reconcile the pain of her experience living as the wrong gender with the pain of her children in losing the father they love. We eavesdrop on her lifelong conversations with the God whom she sees both as the source of her agony and as her hope for transcending it. We look over her shoulder as she learns to walk and talk as a woman after forty-plus years of walking and talking as a man. We stare with her into the mirror as she asks herself how the new self she is creating will ever become real.
Ladin's poignant memoir takes us from the death of living as the man she knew she wasn t, to the shattering of family and career that accompanied her transition, to the new self, relationships, and love she finds when she opens the door of life.
2012 Finalist for the National Jewish Book Award for Biography, Autobiography, or Memoir Wrenching and liberating. . . . it] opens up new ways of looking at gender and the place of LGBT Jews in community. "Greater Phoenix Jewish News"
Given her high-profile academic position, Ladin's transition was a major news story in Israel and even internationally. But behind the public story was a private struggle and learning experience, and Ladin pulls no punches in telling that story. She offers a peek into how daunting it was to learn, with little support from others, how to dress as a middle-aged woman, to mu on make-up, to walk and talk like a female. She provides a front-row seat for observing how one person confronted a seemingly impossible situation and how she triumphed, however shakingly, over the many adversities, both societal and psychological, that stood in the way. "The Gay and Lesbian Review Worldwide.
Praise For Through the Door of Life: A Jewish Journey Between Genders…
"Ladin's story is a deep, beautifully written exploration of her journey from being a man to becoming a woman."—Lucy Bledsoe, author of The Big Bang Symphony, Ferro-Grumley Award finalist for LGBT fiction
"Joy Ladin's book succeeds so well because it is anything but a trans tract; it is a fierce story of regular old human life: hideous choices, endless repercussions, occasional glory, frequent humiliation, abiding difficulty. It could have happened to us. She makes us believe it."—Kay Ryan, former poet laureate of the United States, and winner of the Pulitzer Prize for poetry
"Not only a memoir of transgender experience, it's also a story of family heartbeak and family love; of growth as a teacher and writer; and, not least, of a self deeply connected to God and Judiasm throughout a life lived across genders."—Rabbi Jill Hammer, author of The Jewish Book of Days and director of spiritual education at the Academy for Jewish Religion
"Readers will be rewarded not only with an expanded understanding of a complicated choice but also a compelling and moving story of a person transitioning, not only from male to female but from a numb, suicidal 'nonexistence' to opening the 'door of life.' "—Publishers Weekly (starred review)
"Moving from living in misery to being joyful and grateful provided a profound, fundamental release from what she saw as a moral quandary. It's the kind of resolve that makes her work reverberate with emotion, and her artful, thoughtful writing creates an even deeper resonance. . . . A cohesive, powerful memoir."—ForeWord
"Joy Ladin's Through the Door of Life: A Jewish Journey Between Genders is a life-affirming and generous work—and one of the most compelling memoirs of recent years. . . . [S]he writes with beautiful clarity, humility and breathtaking candor."—Jewish Woman Magazine
University of Wisconsin Press, 9780299287306, 255pp.
Publication Date: March 15, 2012
About the Author
Joy Ladin, David and Ruth Gottesman Professor of English at Stern College for Women of Yeshiva University, is the first openly transgender employee of an Orthodox Jewish institution. She is the author of five books of poetry, including, most recently, "Psalms" and "Coming to Life."
or
Not Currently Available for Direct Purchase