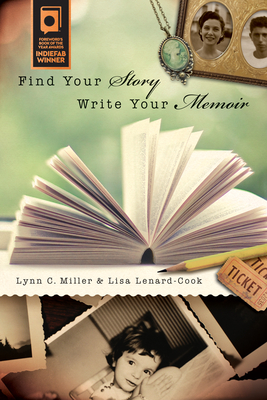 Find Your Story, Write Your Memoir (Paperback)
University of Wisconsin Press, 9780299293147, 146pp.
Publication Date: May 31, 2013
* Individual store prices may vary.
Description
Every person has a story to tell, but few beginners know how to uncover their story's narrative potential. And despite a growing interest among students and creative writers, few guides to the genre of memoirs and creative nonfiction highlight compelling storytelling strategies. Addressing this gap, authors Lynn C. Miller and Lisa Lenard-Cook provide a compact, accessible guide to memoir writing that shows how an aspiring memoir writer can use storytelling tools and tactics borrowed from fiction to weave personal experiences into the shape of a story.
            Find Your Story, Write Your Memoir offers an overview of the building blocks of memoir writing. Individual chapters focus on key issues and challenges, such as the balance between the remembering narrator and the experiencing narrator, the capacity to honor the subjective voice, the occasion of telling (why does this narrator tell this story now?), creating an organically functional structure for a particular story, and taking the next steps with a written memoir. Drawing on their combined years of experience teaching memoir writing, authoring works of fiction and nonfiction, and working in autobiographical performance, Miller and Lenard-Cook provide a practical guide whose core philosophy is motivated by a key word: story.

Bronze winner, Foreword Book of the Year, Writing Guides
About the Author
Lynn C. Miller is the author of the novels Death of a Department Chair and The Fool's Journey and coeditor of Voices Made Flesh: Performing Women's Autobiography. A playwright and solo performer, she is former professor of theater and dance as well as women's and gender studies at the University of Texas at Austin. Lisa Lenard-Cook is the PEN-shortlisted author of Dissonance, Coyote Morning, and The Mind of Your Story. She is a faculty member at the Santa Barbara Writers Conference and at the Narrative Arts Center in Santa Fe, New Mexico. Together, they cofounded ABQ Writers Co-op, a creative community for Southwest writers.
Praise For Find Your Story, Write Your Memoir…
"A remarkably compact, efficient, complete, and helpful guide to writing memoirs. I plan to use it in my own teaching."—Rachel Hadas, author of Strange Relation: A Memoir of Marriage, Dementia, and Poetry
"Find Your Story, Write Your Memoir is original, taking its standpoint on memoir writing from the craft of fiction, and integrating research about memory, narrative theory, and concepts important to performance studies."—Craig Gingrich-Philbrook, author of Loss: Stories about the End of Things