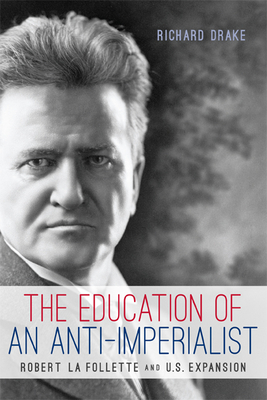 The Education of an Anti-Imperialist
Robert La Follette and U.S. Expansion (Studies in American Thought and Culture)
Paperback

* Individual store prices may vary.
Description
Robert M. La Follette (1855–1925), the Republican senator from Wisconsin, is best known as a key architect of American Progressivism and as a fiery advocate for liberal politics in the domestic sphere. But "Fighting Bob" did not immediately come to a progressive stance on foreign affairs.            In The Education of an Anti-Imperialist, Richard Drake follows La Follette's growth as a critic of America's wars and the policies that led to them. He began his political career with conventional Republican views of the era on foreign policy, avidly supporting the Spanish-American and Philippine-American Wars. La Follette's critique of empire emerged in 1910, during the first year of the Mexican Revolution, as he began to perceive a Washington–Wall Street alliance in the United States' dealings with Mexico. La Follette subsequently became Congress's foremost critic of Woodrow Wilson, fiercely opposing United States involvement in World War I. Denounced in the American press as the most dangerous man in the country, he became hated and vilified by many but beloved and admired by others.            La Follette believed that financial imperialism and its necessary instrument, militarism, caused modern wars. He contended they were twin evils that would have ruinous consequences for the United States and its citizens in the twentieth century and beyond.

"An excellent book. . . . As Drake fully documents, La Follette's warnings about [World War I] profiteers and the lust for power were fully justified. Then as now, the American people were lied to by the government and media and manipulated into the stink and blood of war."—Mark Taylor, The Daily Call
 
"Scholars will . . . value the insights into La Follette's foreign policy education."—The Historian
Praise For The Education of an Anti-Imperialist: Robert La Follette and U.S. Expansion (Studies in American Thought and Culture)…
"Richard Drake's superb biography of Robert La Follette is a fresh, fascinating, and highly readable account of a great figure in American history. But it is also an important, indeed stimulating, analysis that can instruct our era how this popular U.S. Progressive senator from Wisconsin repeatedly and courageously stood up against his era's reactionary and avidly pro-war politicians."—Walter LaFeber, Cornell University

"This book addresses big themes: republic or empire, progressive politics, freedom and censorship in wartime, and congressional and executive foreign policymaking powers. A vivid portrait of Robert La Follette that shows why he was such a thorn in the side of those who sought to conduct 'business as usual.'"—Susan Brewer, author of Why America Fights

"There are other biographies of Robert La Follette, obviously, but none that probes so deeply into the intellectual development of an American anti-imperialist. This is a very important piece of scholarship that deserves a wide reading."—Lloyd Gardner, author of Three Kings: The Rise of an American Empire in the Middle East after World War II

"Drake has given us . . . an intense intellectual history of the most famous Wisconsin politician, how he grew and shifted his opinions dramatically."—Wisconsin State Journal


"Drake is skillful at showing the La Follette who admired William McKinley and endorsed the war with Spain in 1898."—Wall Street Journal


"Drawing upon an extensive investigation of La Follette's voluminous correspondence and a close reading of La Follette's Magazine, Drake explains how the progressive politician's critique of big business and monopoly threats to American democracy was extended into a denunciation of American imperialism."—History News Network


"Meticulously researched and wonderfully well written. . . . Drake carefully documents La Follette's Progressive anti-imperialist thinking—with all its flaws and inconsistencies, as well as its extraordinary fundamental insights and flashes of brilliance—that took 'Fighting Bob' from his roots as a McKinley Republican to his position as a holdout against America's entry into World War I and an irreconcilable opponent of the League of Nations and of the liberal, internationalist policies of his own Republican colleagues. As useful as Drake's book is for historians, it might most profitably be read by America's political thinkers, political leaders and policy makers."—Political Science Quarterly


"Doubtless this book will become the definitive study of La Follette's foreign policy thinking."—Register of the Kentucky Historical Society
University of Wisconsin Press, 9780299295240, 550pp.
Publication Date: December 19, 2013
About the Author
Richard Drake is professor of history at the University of Montana. He is the author of Apostles and Agitators: Italy's Marxist Revolutionary Tradition and The Aldo Moro Murder Case among other works.
or
Not Currently Available for Direct Purchase