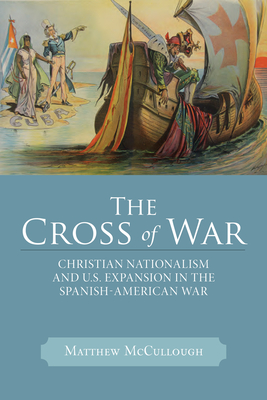 The Cross of War (Paperback)
Christian Nationalism and U.S. Expansion in the Spanish-American War (Studies in American Thought and Culture)
University of Wisconsin Press, 9780299300340, 218pp.
Publication Date: August 20, 2014
* Individual store prices may vary.
Description
The Cross of War documents the rise of "messianic interventionism"—the belief that America can and should intervene altruistically on behalf of other nations. This stance was first embraced in the Spanish-American War of 1898, a war that marked the dramatic emergence of the United States as an active world power and set the stage for the foreign policy of the next one hundred years. Responding to the circumstances of this war, an array of Christian leaders carefully articulated and defended the notion that America was responsible under God to extend freedom around the world—by force, if necessary. Drawing from a wide range of sermons and religious periodicals across regional and denominational lines, Matthew McCullough describes the ways that many American Christians came to celebrate military intervention as a messianic sacrifice, to trace the hand of God in a victory more painless and complete than anyone had imagined, and to justify the shift in American foreign policy as a divine calling.
About the Author
Matthew McCullough earned a PhD in American religious history from Vanderbilt University and serves as the pastor of Trinity Church in Nashville, Tennessee.

Praise For The Cross of War: Christian Nationalism and U.S. Expansion in the Spanish-American War (Studies in American Thought and Culture)…
"A very important piece of scholarship in the burgeoning literature on religion and war."—Andrew Murphy, Rutgers University

"As McCullough shows in rich detail, the Spanish-American War marked the critical juncture where American foreign policy instincts shifted from isolationism to interventionism. He proves this transition could not have taken place without the active role of churches and clergy in explaining to Americans, paradoxically, how they could be imperialistic and altruistic at the same time."—Harry S. Stout, Yale University

"Drawing on an impressive array of sources, Matthew McCullough maps thoroughly and accurately the flow of Christian theologies and rhetorics into the ideological reservoirs of American imperial power. This book presents a convincing case that the 'splendid little war' deserves a great deal more attention."—Jonathan H. Ebel, University of Illinois at Urbana-Champaign
"Although not without its critics, the conviction that the US was destined to spread democracy and Christian values became synonymous with nationalist aspirations. . . . This valuable study provides a much-needed cautionary tale in nation building."—Choice
"The Spanish-American War and successive rationalizations for both violence and imperialism have much to teach us about the malleability of theology to justify bellicosity."—Christian Century
"In The Cross of War, Congregationalist clergy figure as important . . . interpreters of the events of the Spanish-American War; what is interesting is that, in contrast to [the past], Catholic religious leadership now helps inform the American civil religion rather than standing outside."—The Congregationalist
"Reminds readers that religious discourse circulating within the domestic space of the nation-state must be examined as a powerful arena in which national identity forms."—Journal of American History

"Adds depth and texture to an episode that may have marked a significant turning point in the growth of an outward-directed Christian nationalism."—Journal of Ecclesiastical History