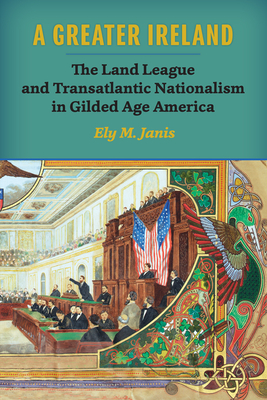 A Greater Ireland (Paperback)
The Land League and Transatlantic Nationalism in Gilded Age America (History of Ireland & the Irish Diaspora)
University of Wisconsin Press, 9780299301248, 290pp.
Publication Date: February 17, 2015
* Individual store prices may vary.
Description
During the early 1880s a continual interaction of events, ideas, and people in Ireland and the United States created a "Greater Ireland" spanning the Atlantic that profoundly impacted both Irish and American society. In A Greater Ireland: The Land League and Transatlantic Nationalism in Gilded Age America, Ely M. Janis closely examines the Irish National Land League, a transatlantic organization with strong support in Ireland and the United States. Founded in Ireland in 1879 against the backdrop of crop failure and agrarian unrest, the Land League pressured the British government to reform the Irish landholding system and allow Irish political self-rule. The League quickly spread to the United States, with hundreds of thousands of Irish Americans participating in branches in their local communities.
            As this "Greater Ireland" flourished, new opportunities arose for women and working-class men to contribute within Irish-American society. Exploring the complex interplay of ethnicity, class, and gender, Janis demonstrates the broad range of ideological, social, and political opinion held by Irish Americans in the 1880s. Participation in the Land League deeply influenced a generation that replaced their old county and class allegiances with a common cause, shaping the future of Irish-American nationalism.

About the Author
Ely M. Janis is an associate professor of history at the Massachusetts College of Liberal Arts.
Praise For A Greater Ireland: The Land League and Transatlantic Nationalism in Gilded Age America (History of Ireland & the Irish Diaspora)…
"Impressively researched, A Greater Ireland makes a major contribution to Irish-American, immigration, and nineteenth-century U.S. social and political history."—David Brundage, coauthor of Who Built America?
"A very significant contribution to understanding the confusing and constantly shifting positions taken by Irish Americans—and, to a lesser extent, the Irish—on the questions of Irish nationalism, labor reform, and the means to secure one or both."—David Emmons, author of Beyond the American Pale: The Irish in the West, 1845–1910

"Although the Land League's existence in both Ireland and the US was short lived, it fostered nationalistic ideals that the next generation of Irish and Irish Americans championed. Written in strong prose and expertly researched, the book affords its readers a glimpse into the complex discourse that engulfed the Atlantic world during the waning decades of the 19th century. Highly recommended."—Choice

"A concise, meticulously researched examination of one specific thread in a shared Irish and Irish American history: the Irish National Land League of the 1880s. This organization spanned the globe, uniting citizens of both Ireland and the United States in pursuing Irish land reform and self-rule, and had lasting repercussions for Irish American identity and political involvement. . . . Janis communicates an impressive body of scholarship, with a level of detail that will be of great use and interest to students of Irish heritage, world history, and land-reform movements."—ForeWord Reviews
"Makes a strong argument that, for a moment in the 1880s, Irish American nationalism and radical thinking in the United States merged under the Irish Land League of America."—Journal of American History
"Of great significance to scholars interested in a transnational approach to history. As the first major synthesis of Irish American nationalism in the Gilded Age since Brown's monumental study was published in 1966, A Greater Ireland is a valuable contribution to the fields of Irish and American ethnic history."—Journal of American Ethnic History
"Janis carefully draws on and extends analyses on class dimensions of U.S. support and the local conditions that shaped Land League branches, while tracing significant developments both in Ireland and America. More important, Janis examines the participation of Irish American women, who have been largely overlooked in previous scholarship."—American Historical Review