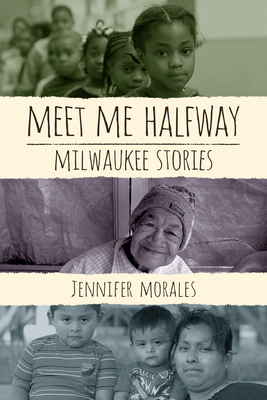 Meet Me Halfway
Milwaukee Stories
Paperback

* Individual store prices may vary.
Description
When Johnquell, an African American teen, suffers a serious accident in the home of his white neighbor, Mrs. Czernicki, his community must find ways to bridge divisions between black and white, gay and straight, old and young. Set in one of the nation's most highly segregated cities—Milwaukee, Wisconsin—Meet Me Halfway tells stories of connections in a community with a tumultuous and divided past. In nine stories told from diverse perspectives, Jennifer Morales captures a Rust Belt city's struggle to establish a common ground and a collective vision of the future.
            Morales gives life to multifaceted characters—white schoolteachers and senior citizens, Latino landlords, black and Puerto Rican teens, political activists, and Vietnam vets. As their lives unfold in these stories, we learn about Johnquell's family—his grandparents' involvement in the local Black Panther Party, his sister's on-again, off-again friendship with a white classmate, and his aunt's identity crisis as she finds herself falling in love with a woman. We also meet Johnquell's mother, Gloria, and his school friend Taquan, who is struggling to chart his own future.
            As an activist mother in the thick of Milwaukee politics, Morales developed a keen ear and a tender heart for the kids who have inherited the city's troubled racial legacy. With a critical eye on promises unfulfilled, Meet Me Halfway raises questions about the notion of a "postracial" society and, with humor and compassion, lifts up the day-to-day work needed to get there.

Runner-up, Short Story/Anthology, Midwest Book Awards

Best books for public & secondary school libraries from university presses, American Library Association

Wisconsin representative for "Great Lakes Reads," Library of Congress Center for the Book and its affiliated Midwest centers

Outstanding Achievement Award, Wisconsin Library Association (one of ten 2015 books chosen)
Praise For Meet Me Halfway: Milwaukee Stories…
"Written with a sharp eye and a warm heart, Meet Me Halfway brings us into a multicultural community where people are trying to do the right thing, even when the wrong thing happens and a child dies. Richly textured, funny, and wise."—Kelly Cherry, author of A Kind of Dream


"Morales convincingly lets us see through the eyes of a young black boy, a racist white woman, a narrow-minded substitute teacher, a lesbian woman, a left-wing housewife, and many more real lives. There are surprises here, and real people to remember."—Martha Bergland, author of A Farm Under a Lake


"Jennifer Morales does nothing halfway—she throws herself full-force into the heart of Milwaukee, into the lives of her characters, and demands that the reader meet them with just as much empathy and respect. A stunning, stirring collection, one that will inspire dialogue and maybe even change."—Gayle Brandeis, author of The Book of Dead Birds, winner of the Bellwether Prize for Fiction of Social Engagement


"Morales fully inhabits the astonishingly diverse voices of her characters, allowing us to connect with them and their linked stories as they struggle to connect with each other in an ever-shifting cultural landscape."—Jenn Crowell, author of Necessary Madness and Etched on Me

"Meet Me Halfway portrays powerfully the silences and blind spots, the ways of hesitating, questioning, baiting, and confronting that comprise the daily playing-out of racism. This book brings a chill of recognition: yes, I've been there."—Margaret Rozga, author of Justice Freedom Herbs

"The nine loosely connected stories in Morales' compelling debut collection explore the diverse voices, racial divisions, and intersecting lives within Milwaukee. . . . Morales' stories do not shy away from her characters' varied realities and modern-day prejudices. A candid and powerful book."—Booklist


"[Jennifer Morales is] an impressively gifted writer. [These] short stories are lucid, compelling, deftly crafted, thoughtful, and thought-provoking. Very highly recommended for community and academic library collections and for personal reading lists."—Midwest Book Review

University of Wisconsin Press, 9780299303648, 202pp.
Publication Date: April 21, 2015
About the Author
Jennifer Morales lived for more than twenty years in Milwaukee, where she raised children and served on the Milwaukee Board of School Directors—the first Latino/a elected to it. She earned her MFA from Antioch University–Los Angeles. She now lives in Viroqua, Wisconsin, and is a board member of the Council for Wisconsin Writers and the Driftless Writing Center.