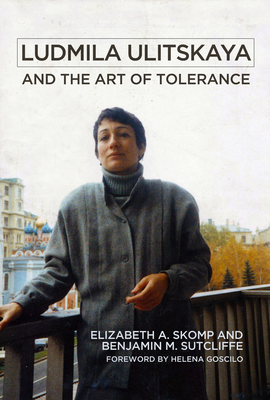 Ludmila Ulitskaya and the Art of Tolerance (Paperback)
University of Wisconsin Press, 9780299304140, 268pp.
Publication Date: June 11, 2015
* Individual store prices may vary.
Description
Novelist Ludmila Ulitskaya is a crucial cultural figure in contemporary Russia, garnering both literary awards and best-seller status. Engaging with the past to combat the creeping authoritarianism of the Putin era, she has become the latest in a long line of Russian dissident authors championing the values of liberalism and tolerance while critiquing the state. Ludmila Ulitskaya and the Art of Tolerance is the first English-language book about this influential writer, contextualizing her in the shifting landscape of post-Soviet society and culture.
            Drawing on interviews with Ulitskaya and sources not readily available to Western scholars, Elizabeth A. Skomp and Benjamin M. Sutcliffe explore the ethical ideals that make Ulitskaya's novels resonate in today's Russia—tolerance, sincerity, and diversity—and examine how she uses innovative imagery to personalize history through a focus on body and kinship. This is essential reading for anyone interested in contemporary Russian literature and society.

About the Author
Elizabeth A. Skomp is an associate professor and chair of the Russian Department at Sewanee: The University of the South, and director of its Interdisciplinary Humanities Program. Benjamin M. Sutcliffe is an associate professor of Russian and faculty associate of the Havighurst Center for Russian and Post-Soviet Studies, both at Miami University of Ohio. He is the author of The Prose of Life: Russian Women Writers from Khrushchev to Putin, also published by the University of Wisconsin Press.
Praise For Ludmila Ulitskaya and the Art of Tolerance…
"Ludmila Ulitskaya is one of the most important living Russian writers."—Gary Shteyngart, author of Super Sad True Love Story

"Ludmila Ulitskaya and the Art of Tolerance serves the dual role of introducing Ulitskaya to an English-language readership and making a major contribution to the growing body of criticism about her fiction and essays."—Eliot Borenstein, New York University

"Skomp and Sutcliffe bring us a long way toward contextualizing and understanding the significance of this major Russian writer."—Natasha Kolchevska, University of New Mexico

"Impeccably researched and written with conviction, this book is indispensable for anyone interested in Ulitskaya."—Helena Goscilo

"Critical for understanding both Ulitskaya's writing and the broader contemporary Russian literary landscape.  An important and insightful volume by two leading scholars."—Choice
"A substantive and illuminating study of Liudmila Ulitskaia, a major figure in contemporary Russian literature."—Slavic Review
"Draws on a vast body of literary criticism, both Russian and Anglophone, and on numerous interviews with Ulitskaya. Such a rich contextualization of [her] ideas and themes, and of her reception in Russia, is one of the most impressive and valuable aspects of this book."—Russian Review