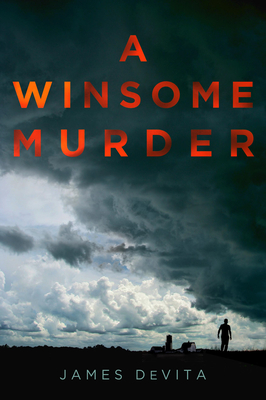 A Winsome Murder (Hardcover)
University of Wisconsin Press, 9780299304409, 196pp.
Publication Date: June 22, 2015
* Individual store prices may vary.
Description
A grisly murder in a pastoral Wisconsin town, Winsome Bay, proves to be only the opening act in a twisting, darkening series of gruesome deaths. Acclaimed already for his young adult fiction, actor/director/playwright James DeVita now debuts an addictive, adult thriller that takes us from Chicago's underbelly to the Wisconsin woods.
            In this fast-paced novel we meet a gorgeous waitress with a haunted past, an author juggling a failing career and motherhood, and a hard-bitten detective with unexpected inspiration from William Shakespeare's bloodiest plays—and nobody escapes the nightmare created by a psychotic killer of women.

Best books for public & secondary school libraries from university presses, American Library Association

Outstanding Achievement Award, Wisconsin Library Association (one of ten 2015 books chosen)

"A page-turner from beginning to end. . . . Certain to be an enduringly popular addition to community library Mystery/Suspense collections."—Midwest Book Review

"In addition to a unique detective, a wholly original story, and some literary flair, DeVita has filled these pages with timely and biting social commentary, which does much to add to the real feel of this creative whodunit."—Chicago Book Review
About the Author
James DeVita is a core company member and literary manager at the American Players Theatre, a professional classical repertory company in Spring Green, Wisconsin. He has worked extensively as a playwright and has published two novels for younger readers, The Silenced and Blue. He is a native of Long Island, New York, and now lives near Spring Green.

Praise For A Winsome Murder…
"A story of superior literary merit with a very hard edge and some biting social commentary. Detective James Mangan is complex and interesting, a tough, gritty Chicago cop whose vast reservoir of wonderfully spooky Shakespeare quotations informs his crime-solving skills. It's a fine study of contrasts that folds into a taut, multilayered, highly enjoyable whodunit."—Brian Rieselman, author of Where Darkness Sleeps

"An unpredictable, intelligent mystery that illuminates the darkness simmering in the most idyllic of places. With a little help from the Shakespeare he knows so well, and a keen eye for the gritty realities of rural life, James DeVita brings an incredible cast to this novel's stage, led by one of the most compelling detectives you'll ever meet."—Dean Bakopoulos, author of My American Unhappiness

"James DeVita has written a riveting thriller featuring a deranged killer and a detective who hears snatches of Shakespeare in his head. It's a terrific read."—Michael Hinden, coauthor with Betsy Draine of the Nora Barnes and Toby Sandler mysteries

"This debut crime novel is a haunting tale of grief and murder that will not soon be forgotten. In James Mangan, DeVita has created a wholly original detective, and it is a treat to follow along as the voices of Shakespeare and Melville lead him to the story's explosive conclusion. With fast plotting and stellar writing, A Winsome Murder is not to be missed."—William Lashner, author of Bagmen
"An engaging mystery that's a feast of literary allusions. . . . [Detective James] Mangan's 'verbal quirks,' snatches of prose or poetry that pop into his head and help him solve cases, make him an unusually distinctive sleuth."—Publishers Weekly

"DeVita has created an exceptional villain and a fascinating and complicated mystery told in a gripping manner. . . . A solid choice for Sean Chercover and Laura Lippman readers and noir fans."—Library Journal

"Mangan makes a fine protagonist, but in A Winsome Murder DeVita introduces another cop who could give him a run for his money: Officer Michele Schaefer, of the Winsome Police Department. Although only a small-town cop, Schaefer—who first identified [the] body—has cojones to match her big-city counterpart."—Mystery Scene

"DeVita . . . creates deep and substantial characters with histories that drive their motives. Detective Mangan's internal voice often quotes Shakespeare . . . giving him characteristics of a deeply intelligent, well-read man working an unjust and bloody job."—Foreword Reviews