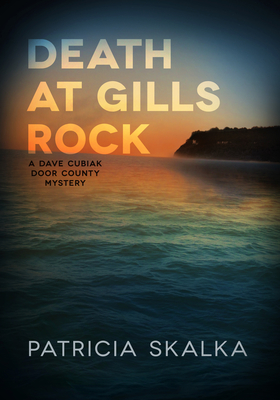 Death at Gills Rock (Hardcover)
A Dave Cubiak Door County Mystery
University of Wisconsin Press, 9780299304508, 248pp.
Publication Date: June 23, 2015
* Individual store prices may vary.
Description
After tracking a clever killer in Death Stalks Door County, park ranger and former Chicago homicide detective Dave Cubiak is elected Door County sheriff. His newest challenge arrives as spring brings not new life but tragic death to the isolated fishing village of Gills Rock. Three prominent World War II veterans who are about to be honored for their military heroics die from carbon monoxide poisoning during a weekly card game. Blame falls to a faulty heater but Cubiak puzzles over details. When one of the widows receives a message claiming the men "got what they deserved," he realizes that there may be more to the deaths than a simple accident.
            Investigating, Cubiak discovers that the men's veneer of success and respectability hides a trail of lies and betrayal that stems from a single, desperate act of treachery and eventually spreads a web of deceit across the peninsula. In a dark, moody tale that spans more than half a century, Cubiak encounters a host of suspects with motives for murder. Amid broken dreams, corruption, and loss, he sorts out the truth. Death at Gills Rock is the second book in Patricia Skalka's Dave Cubiak Door County Mystery series.

About the Author
Patricia Skalka is a former freelance staff writer for Reader's Digest specializing in medical and human interest stories. She has worked as a magazine editor, ghost writer, and writing instructor. A native of Chicago, she lives in the city and takes time off at her cottage in Door County, Wisconsin.

Praise For Death at Gills Rock: A Dave Cubiak Door County Mystery…
"Skalka takes us back to Door County—this mystery is even better than the first."—Mary Logue, author of the Claire Watkins mystery series

"Death at Gills Rock is an expertly crafted, impressively researched novel with a gripping, multilayered plot; colorful, well-drawn characters that leap right off the page; tight, punchy dialog; and a pace that grabs you by the throat and doesn't let go."—Michael Norman, author of Haunted Wisconsin

"Death at Gills Rock is a well wrought, tightly plotted police procedural with a nuanced, brooding detective, set on the gorgeous lakefront of a frigid Wisconsin peninsula."—Hallie Ephron, New York Times best-selling author of Night Night, Sleep Tight
"A compelling, complex whodunit saturated with long-ago sins and festering hatreds. The author skillfully uses as her backdrop an outwardly idyllic corner of Wisconsin."—Robert Goldsborough, author of Archie in the Crosshairs, a Nero Wolfe Mystery
"Three World War II heroes about to be honored by the Coast Guard are all found dead, apparent victims of carbon monoxide poisoning while playing cards at a cabin. . . . The second installment of this first-rate series (Death Stalks Door County, 2014) provides plenty of challenges for both the detective and the reader."—Kirkus Reviews

"Skalka captures the gloomy small-town atmosphere vividly, and her intricate plot and well-developed characters will appeal to fans of William Kent Krueger."—Booklist

"In her atmospheric, tightly written sequel, Skalka vividly captures the beauty of a remote Wisconsin peninsula that will attract readers of regional mysteries. Also recommended for fans of William Kent Krueger, Nevada Barr, and May Logue."—Library Journal, *starred review